Bike Buying 101- Tips for Tracking Bicycle Prices and Availability
Vaishnavi and Ishani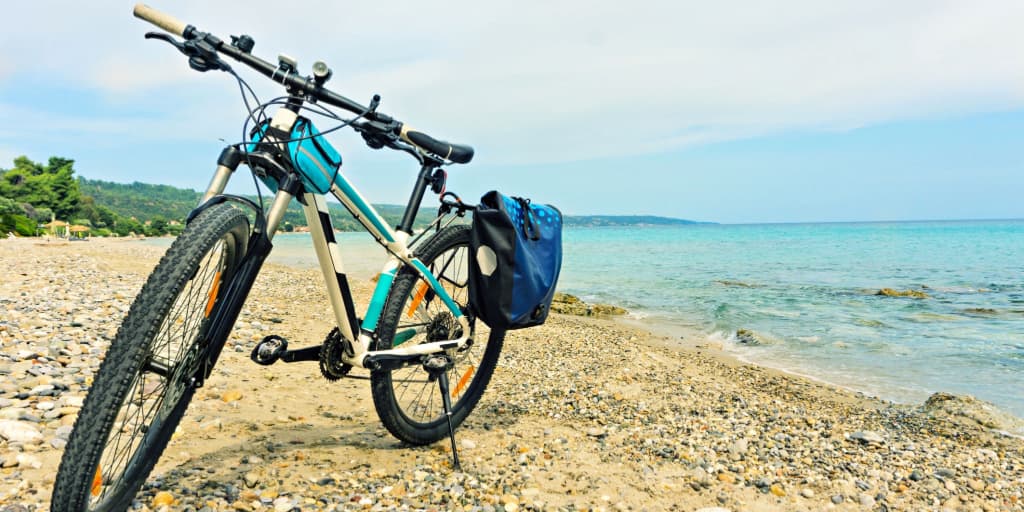 Are you considering buying a new bike? Online shopping makes it easy to compare bicycle prices across multiple websites, find discount codes, and thoroughly review product details. In this article, we'll help you navigate the twists and turns of the bike-buying process. We'll discuss the essential factors to consider while purchasing, the latest trends to watch out for, and the top bikes in the market.
Gearing Up: Bike market trends to keep an eye on
The global bike market has experienced significant growth in recent years due to the COVID-19 pandemic, environmental concerns, and a shift towards healthier lifestyles. The market is projected to see a CAGR of 9.7% from 2023 to 2030. This increased demand has strained the global supply chain for bicycles, leading to shortages and longer wait times for consumers seeking to buy a new bike.
Fun Fact: In 2022, Amazon sold out of several popular e-bikes in just a week after their release, including the Fiido L2 folding e-bike, Rattan city "mountain" e-bike, and the Super73 Z1 e-bike.
As e-commerce continues to grow, more consumers are turning to online marketplaces to buy bikes, making it harder to secure the most sought-after models before they sell out.
However, purchasing your dream bicycle doesn't have to be a challenge. Savvy shoppers use services like restock alerts and website monitoring tools on e-commerce platforms to secure products on time and at the best price. As you read on, we'll show you how to use website monitoring tools to track:
Price drops across various online bike stores
Discounts, offers, and deals on multiple online bike stores
Bike availability when they're out of stock
New model releases in the marketplace
Before diving into these tips, let's explore some of the exciting new bikes of 2023.
Top bikes to watch out for in 2023
Mountain bikes: Some of the best cross-country mountain bikes of 2023 are as follows:
Electric Bikes: The Vanmoof S3 is considered as the top e-bike available in the market for the year 2022.This article will give you more details about the various e-bikes brands in the market.
Some of the most awaited models for e-bikes for the year 2023 include:
Hybrid and Fitness Bikes: Some of the best-selling bikes in this category include:
Aero Road bikes: Some of the best Aero bikes models in the year 2023 are as follows:
Where to buy your bicycle online: Top bike stores to consider
Here is a list of the top-rated online bike stores with a wide range of bicycles for all types of riders:
Rei Co-op: This retail store has been in business for over 80 years and offers a membership program with exciting rewards and benefits, including savings on purchases. The membership never expires, so you only pay once and enjoy the benefits forever.

Specialized: Specialized allows you to customize your bike with different components and accessories to suit your specific needs and riding style. They also offer free shipping on orders over a certain amount, helping you save on shipping costs.

Trek: Trek has been around for 40 years and offers a wide range of bike types, including road bikes, mountain bikes, and electric bikes. They also have a network of authorized dealers and service centers to assist customers with assembly or repairs.
In addition, we recommend closely monitoring reputable websites like Canyon, VanMoof, and Aventon for the latest model releases and best deals during sales season. Be sure to subscribe to their newsletters and track their websites to grab these deals.
Challenges in buying bikes online
Buying a bike online can come with several challenges, like:
Expensive shipping fees due to size, weight, availability, and destination of the package.
Limited availability or higher shipping fees in certain areas due to distance, customs regulations, or logistical challenges.
Frequent price changes across websites, making it overwhelming to monitor and potentially leading to delayed purchases.
Difficulty in finding deals and discounts across numerous websites.
Determining the right size for a comfortable and safe ride, especially when purchasing a bike online.
Regular maintenance costs that should be factored into the overall cost of owning a bike.
To help address some of these challenges, you can use Distill for:
Tracking multiple websites for price changes to buy the bike within your budget.
Monitoring online bicycle stores for deals and discounts.
Checking the availability of your favorite bicycles and setting up alerts to buy them as soon as the bicycle is back in stock.
Insider tips and tricks to buy bikes online
Tracking online discussion forums and communities: Following online communities like Reddit, Facebook Groups, Bike forums and cycling forums can be a great way to stay updated on the latest trends, sales, and deals. You can also ask questions and get advice from experienced cyclists.
Following brand websites and social media: Setting up alerts and notifications on bicycle brand social media accounts helps you get notified once new models are announced. You will get alerts about new products, sales, and promotions.
Third-party comparison apps: Use 3rd party websites and apps like Google Shopping, PriceGrabber, and Shopzilla to compare prices of the same bike model across different retailers to ensure you get the best deal. The downside is that these services are capped and may require payment to access certain features.
Using web monitoring tools: Applications such as Distill can monitor product webpages and send you alerts when the product is restocked or when there is a price drop. Web monitoring tools generally have a free plan. Read ahead to know more about how Distill can help you save big.
Buying second-hand bicycles: This helps save money on a bike purchase. Websites such as Craigslist, Facebook Marketplace, and eBay are popular platforms for buying and selling used bikes online. It's important to do some research and inspect the bike thoroughly before purchasing to ensure that it's in good condition and meets your needs.
Discount seasons for bicycles in the US and Europe
According to a report by Bicycle Retailer, the average discount on a new bicycle during a sale event is between 10% to 20%. A study found that buying a bicycle on sale and keeping it for five years can save consumers up to $500 compared to buying the same bicycle at full price.
Fall is an ideal time to purchase a bike. Christmas and Black Friday also offer excellent opportunities to buy bicycles at discounted prices. This is because manufacturers are focused on new model releases and want to sell off older models before spring and summer. During the off-season, when demand is lower, shops offer lower prices, but it doesn't mean you'll be buying an outdated model.
Discount seasons for top bicycle brands
Trek, Giant, and Specialized offer promotions and discounts in the spring.

Cannondale and Scott offer promotions and discounts during the summer when the weather is warm and people are more likely to go cycling.

Diamondback offers discounts on its bicycles in the fall, which is typically a slower season for bicycle sales.

Winter is generally the slowest season for bicycle sales, as many people do not want to cycle in cold weather. However, Santa Cruz is known to offer promotions and discounts during the winter to attract customers.
Want to get a bicycle at the best price? Use web monitoring. Tracking multiple websites can help you score the best deals and compare prices. You'll get automatic alerts when a product you're interested in goes on sale or becomes available at a lower price on a different website.
How to set up Distill for bike monitoring
Track availability and restock of bicycles online
For this example, we will be tracking the "Canyon Strive CFR" bicycle, a small frame which is currently out of stock.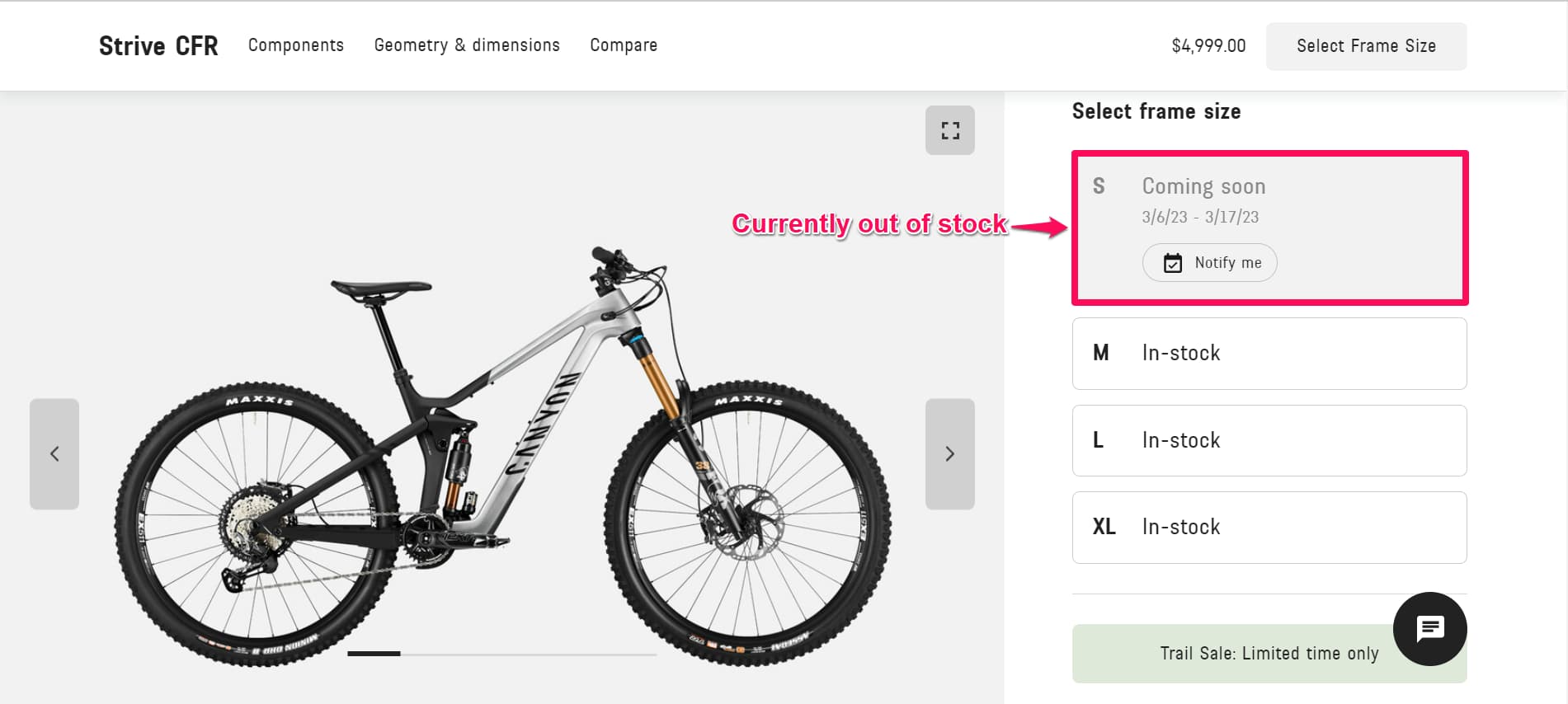 Follow the steps given below to set up a Distill monitor to track the availability of products which are "out of stock".
Step 1: Download and install the Distill Chrome Browser extension. Distill is also available for Firefox, Microsoft Edge and Opera. Once downloaded, we suggest you pin Distill to your browser.
Step 2: Navigate to the product website, in this case, we will go to Canyon Strive CFR product webpage and click the Distill icon on the browser extension.
Step 3: Click "Monitor parts of page".

Step 4: Select the section of the product page that says "out of stock". In this case, we will select the section of small-frame bicycle which is currently out of stock.

Step 5: Under the options page you can select the device. In this case, we will select the browser as the device (This will help you run local checks as long as the browser is open). Using a local device will allow you to do faster checks.
Optional: You can add a name to the monitor. This is to help you identify the monitor in the Distill watchlist.
Step 6: Under schedule checks, set an interval for Distill to check the product page. In this case, Distill will check the website for the bike in every 1 hour for any new updates.
Note: You can also subscribe to our affordable plans that come with faster check frequency. Our users upgrade to the paid plans because they can save a couple of hundred dollars by getting a timely price drop alert. This is a significant return on the investment made on the subscription plans that cost a few dollars.
Step 7: You can then configure your alert mode via email/SMS/ Discord etc. In this case, we would like to be alerted via email.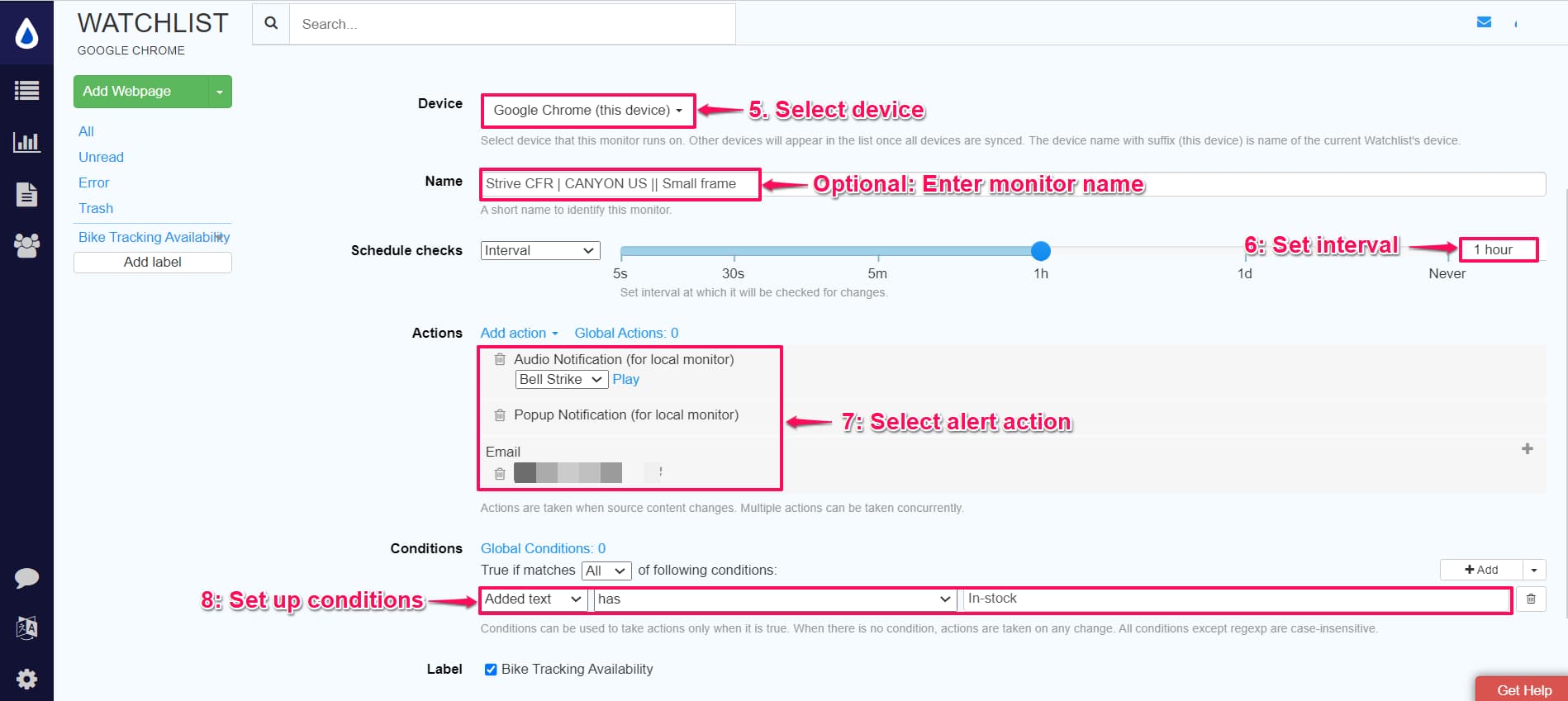 Step 8: Under the conditions tab, you can customize alerts to notify you in case the bike is available when added to the product website. Select "Added text" and "has" from the drop-down options.
Step 9: Enter "In-stock" to get a notification when the bike is available or in stock.
Step 10: Click "Save" to see the website monitor on your Distill watchlist.
Price monitoring
Distill can also be used to track price fluctuations and sales discounts on bikes. In this example, we will showcase how to set up a monitor to track the prices of the Madone SLR 9 Gen 7 AXS bike.
Step 1: Navigate to the Madone SLR 9 Gen 7 AXS product page.
Step 2: Click the Distill icon on the browser extension and click "monitor parts of page".
Step 3: Select the sections of the page which include the price. You can also select sections of the page that indicate whether a product is on sale or not. In this case, we will select the price section and the "New" button.
Note: This "New" button is replaced with the "Sale" button once the product is on sale.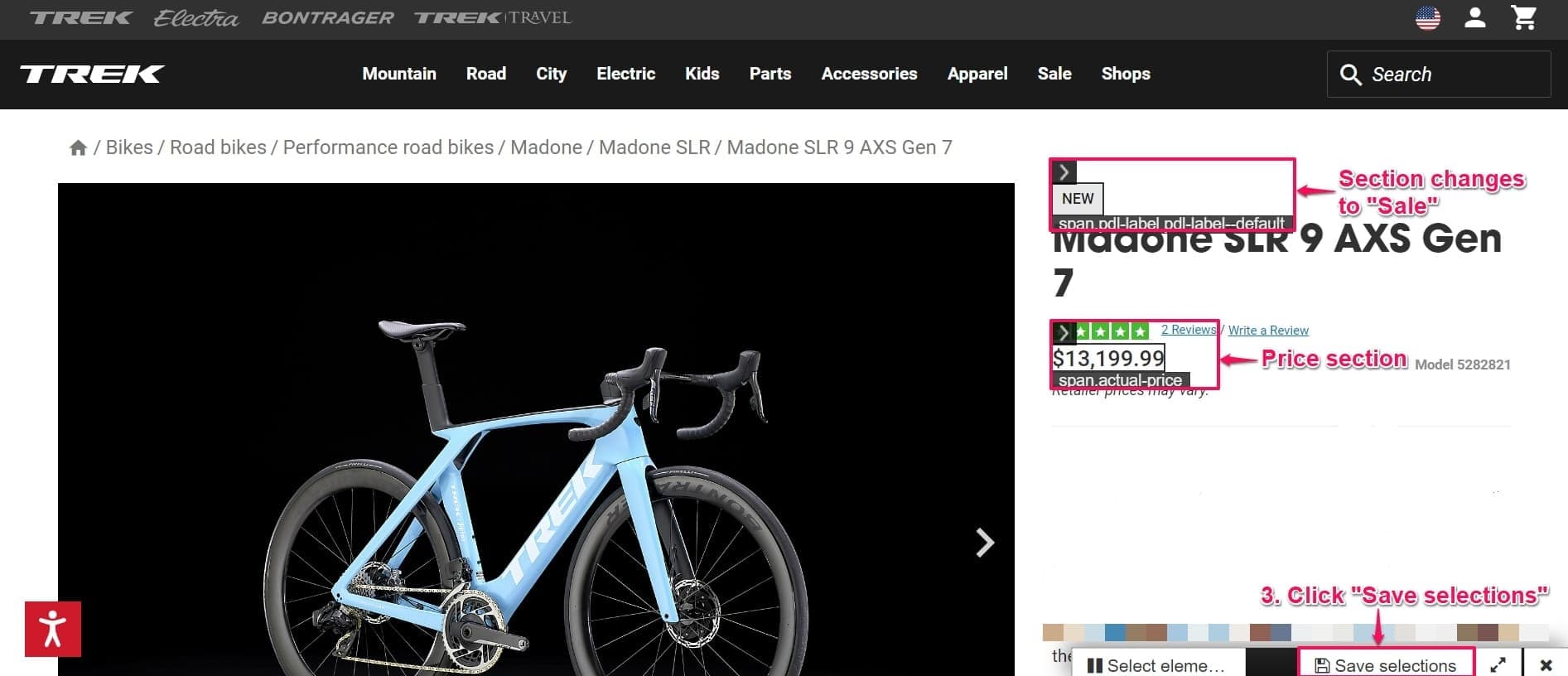 Step 4: In the options page, under the conditions tab, you can customize alerts to notify you in case the price of the bike product drops to your budget or when the product is on sale.
In the given example we would want to be notified once the price drops below $1200 or when the product is on sale.
Change conditions from "All" to "Any". In this case, you will get an alert if either of the conditions is true.
To get a notification once the product is on sale, use the "Added text", "has" condition and key in "Sale". To get a notification once the price drops below 1200, use the "Text", "has number less than" and key in "1200".

Step 5: Once you set the conditions, click "Save" to see the monitor on your Distill watchlist.
How does Distill monitor the product page?
Whenever the price of the bicycle matches a number less than (<) $1200 or if "new" has changed to "sale", Distill triggers a notification to you. Based on the pricing plan you are on, you can increase the frequency of checks that Distill runs on the product web page.
How to buy bicycle parts online
Buying bicycle parts online is convenient because you have multiple websites to browse. But bike parts can be hard to get ahold of and often you'll be greeted with a "unavailable" or "out of stock" message on the webpage.
Follow these steps to buy bicycle parts online:
Compare prices: Check the prices of the parts you need on different online stores. This will help you get an idea of what is a reasonable price for the parts you need. Setting up Distill monitors for multiple websites can help you compare prices in a single watchlist.
Check the compatibility: Make sure that the parts you are buying are compatible with your bike. Check the product description, specifications and compatibility chart before making the purchase.
Check shipping and return policies: Check the shipping costs and estimated delivery time. Also, check the return policy in case you receive the wrong parts or if the parts are defective. You can set up Distill monitors to track if the product page status changes from "Unavailable to deliver in your location" to "available" so you can immediately place an order for the bicycle part.
Check out the following reputed online stores for bike components and accessories:
However, it can be difficult to find a compatible bicycle part, especially if it's rare and unavailable in the market. In such cases, you can use Distill to track the availability of such parts online by following the same steps shown in the "availability tracking" example in the previous section.
Success stories: How bikers have used Distill to buy bikes online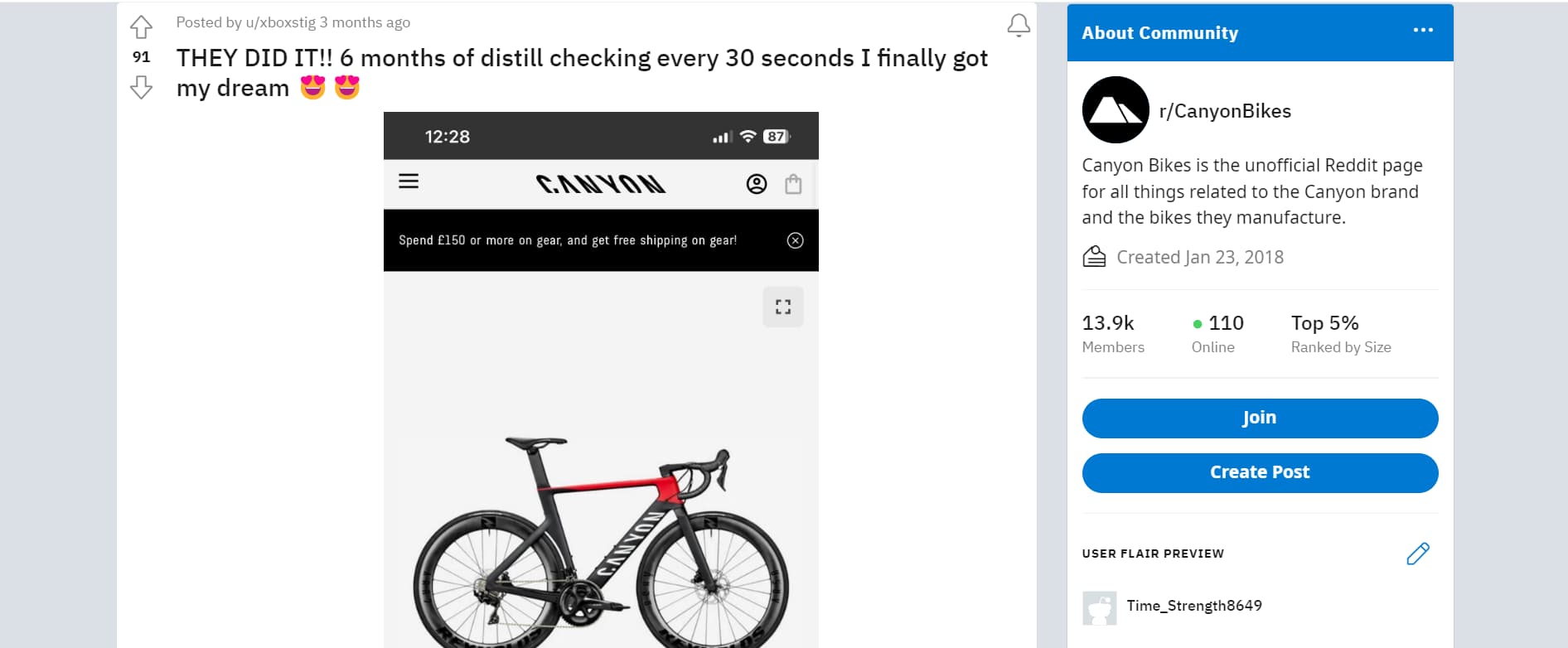 Users across the globe turn to Distill for fast and automated product price and availability tracking. By monitoring the availability of a specific product, users can plan their purchases and help out the community.
For instance, in a Reddit post, a user shared their experience using Distill to monitor the availability of Aeroad CF SL 7 Disc bicycle. The user had planned on buying a bicycle which was very hard to get hold of as it was unavailable or out of stock.
With Distill's real-time tracking at 30-second intervals, the user was able to make a quick purchase as soon as the bicycle came back in stock.
Key takeaways for those buying bicycles online
It can be challenging to buy popular bicycle models when they frequently run out of stock. However, staying proactive and informed can help you find the right bike without overspending.
Tracking forums and setting up alerts for social media handles of bike brands and following reputed influencers help you get a pulse of the bike market.
You can use the Distill extension to set up custom alerts for price drops, new bicycle releases, and restock alerts when a bicycle model is back in stock.
Setting up automated checks on product pages across multiple websites saves time and effort while tracking price drops or availability updates. If you end up saving a lot of money while purchasing the bike you have always wanted, the return on investment is significant and worth appreciating.
Distill extension is available on Chrome, Firefox, Opera, and Microsoft Edge. Based on your requirement you can browse the subscription plans for access to more frequent checks and instant alerts on the go via Distill iOS app and Android app.
In case you have any queries while setting up your trackers, you can reach out to us on Distill forums. Here we have an active community of users who will help you sort out your problem quickly.