Get Instant Alerts of New Prolific Surveys
Tarun Jain
Are you using Prolific to earn extra cash?
Those who don't know about it, Prolific is an excellent way for you to earn income from home by filling surveys for studies. You can make more than $6.5 per hour by simply answering a survey from home. Participants apply for available seats for research and, if selected, get's to answer the survey and earn extra income.
But due to the high volume of participants, it's highly competitive to apply for new studies before the seats are filled. If you are late to apply, you miss out.

But do you know you can get an alert instantly when a new study is posted?
Distill's chrome extension can help you monitor the latest studies and instantly send you an alert when a new study is posted. It's a page monitor that, once downloaded, will watch the web page for you, so you don't have to keep hitting the refresh button every second.
When a new study is available in your Prolific account, Distill will send you a push notification or email/ SMS alert about the new study. You can instantly apply and, therefore, never miss a chance to earn extra income.
Here's how you can get started…
Installation:
If you a Chrome user, you can download Distill's chrome extension from the Google Chrome Store. Click on 'Add extension' to download the extension in your chrome browser.
Distill's page monitor is also available for Firefox and Opera users.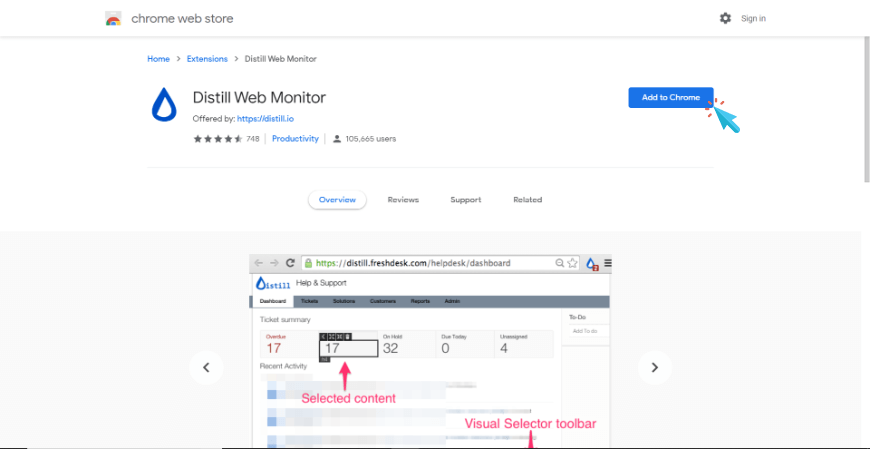 How to set up the Monitor?
Go to the Prolific Studies page, and click on the Distill button in your browser toolbar.

Select "Monitor full-page"

You will be redirected to the watchlist. Here you can edit the settings -

Source: Click "Disable Javascript". This will stop a new page opening up every time Distill checks for changes. Device: Don't change anything here. It should already be set to your browser.
Name: Change this to something you'll remember or leave it if what's already there is good enough.
Schedule checks: Set how often you'd like to Distill to check the page.
Actions: How will Distill alert you? You can select to get an alert via Email, Push notification or even through SMS. Note: In the free plan, you only get limited email notification per month so it's best not to use them unless necessary.
Conditions: Further personalise the monitor. In this example, you can set Distill so that it only alerts you new studies if you are not already doing one, and it won't alert when there are no studies.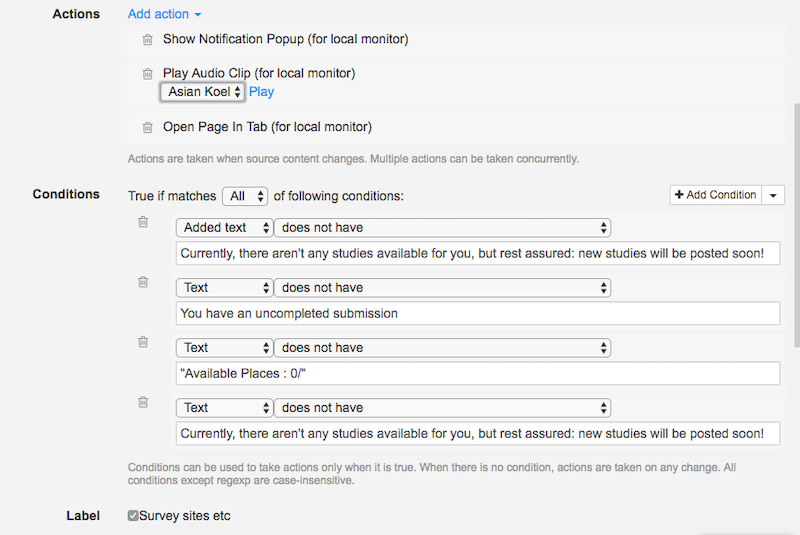 Scroll down to the bottom and click on 'Save' to save the monitor.
And you are done! Now, you don't have to be glued to your laptop and wait for new studies. Distill will automatically send you an alert if and when a new study is available. Distill also works incredibly on other survey sites like Mturk and Swagbucks.
Download Distill chrome extension today and 2X your income!
If you want to know more about the features, check out the Help documentation. Couldn't find an answer to your question, feel free to reach out to us at support (at) distill.io.
Happy Distilling!