PS5 Restock Tracker - Get Alerts When PS5 is in Stock
Vaishnavi Srinath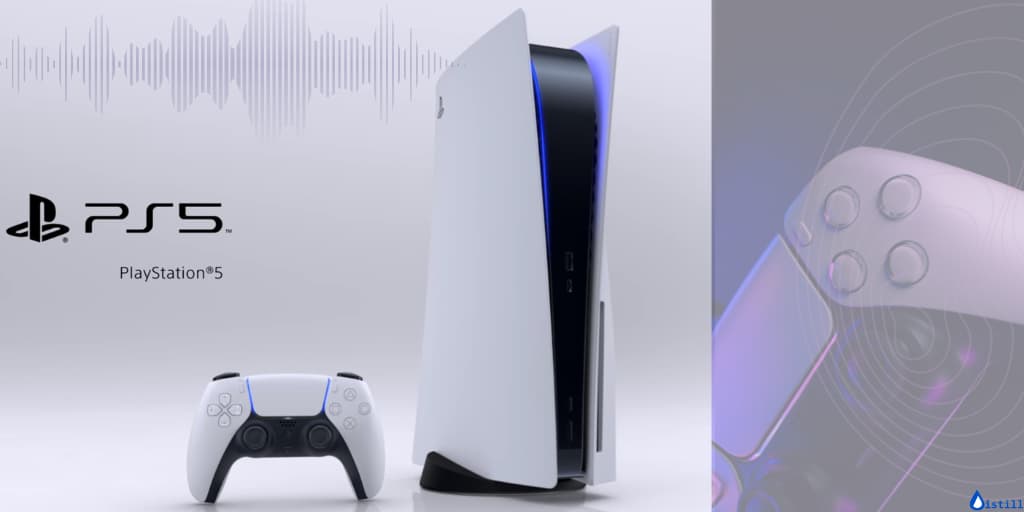 The PS5 (Sony Playstation 5) brings the future of console gaming to today. With stunning 4k visuals, 3D audio, near-instant loading using an ultra-high speed SSD, deeper immersion via haptic feedback, and more, the PS5 dashes all limits of console gaming.
However, the PS5 is a hot commodity that goes out of stock almost as fast as it becomes available. Also, with the PS5 gearing up for its two-year birthday (which falls within the deals-laden holiday shopping period), gamers can expect hot deals for the PS5.
Scoring PS5 deals will require constant monitoring of relevant e-commerce sites for the availability of the console and surprise deals on the console. Manually checking multiple retailer sites for PS5 availability or deals is tiring and impractical. You can use Distill to automatically check PS5 retailers' websites for availability and deals. Distill also helps you monitor discussion forums and Reddit threads for information about when PS5 retailers restock or offer promotions.
In this article, we'll look at how you can use Distill to monitor PS5 retailers' websites and online communities, so you can know when PS5 consoles are available or when they come with juicy deals.
PS5 Restock Updates - When and Where to check
There's been a global shortage of the PS5 since it was released. However, you can find a PS5 by monitoring some online stores to get updates on restocks.
Sony's official online store is the most legitimate place to buy a PS5. Other legitimate online stores to get a PS5 include Amazon, Best Buy, Walmart, GameStop, Target, and Newegg. You can also monitor posts on relevant discussion forums and Twitter threads to get information about PS5 availability and deals.
Manually checking retailers' websites for PS5 availability is an option, but it's quite time-consuming (you will have to check multiple sites multiple times a day) and stressful. You can rely on restock trackers like Distill to automate this process for you.
When Distill notices a change on the monitored web pages (like an out-of-stock PS5 coming back in stock, a PS5 deal becoming available, etc.), it'll instantly notify you.
Can you hit the jackpot by clicking "notify me"?
True, many e-commerce websites have a "notify me" feature, but it does not guarantee instant alerts. Subscribing to the "Notify me" option leaves you relying on receiving the email from the retailers' message queue; this can sometimes take a while. And considering how fast PS5 vanishes out of stock, the "notify me" message may come too late. Unlike e-commerce sites' "notify me" feature, Distill sends alerts instantly, allowing you to act fast to score an available PS5.
Secondly, the "notify me" features have poor email deliverability capability. Do these emails actually end up in the receivers' inboxes, as opposed to their spam/ promotions folder? These "notify me" emails remain unseen and unread, making them as bad as no-alerts. Unfortunately, this is what happens to most email alerts from most e-commerce sites' "notify me" features.
However, Distill has excellent email deliverability. It is designed to send instant email alerts to your inbox, where you will see them and act on them immediately. Besides, Distill allows you to choose the mode in which you want to be notified. You can route your PS5 restock alerts via email, discord, SMS, smartphone, or desktop notification.
Ability to customize "notify me" alerts
Retailers' "notify me" features are "primitive" as they only alert on general stock availability. But sometimes, PS5 chasers want to track website changes and get more specific information (like the number of units remaining in stock, changes in price, deals, etc.).
Distill is a "smart" web monitor and restock notifier because you can customize it to alert you on your specific needs.
How to set up custom PS5 restock alerts
With Distill web monitor, you can track PS5 stock availability at your favorite retailers and get instant alerts once the consoles are available. Setting up a monitor to track when the PS5 is available in an online store is easy.
First, import the website you want to track to the Distill viewport. Then using the visual selector, select the parts of the website you wish to monitor. To track stock availability (when the PS5 will be available in stock), you would want to track the "out of stock" segment of the page.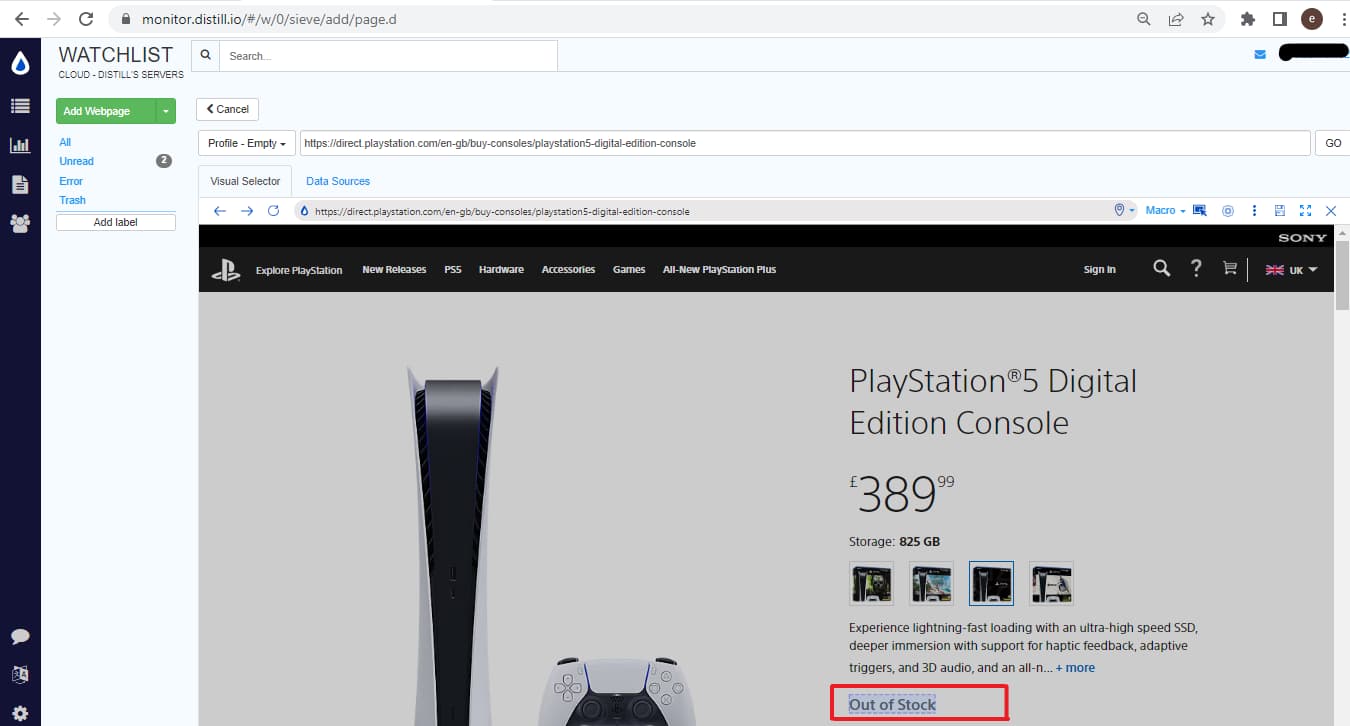 Selecting the "out of stock" element highlights it.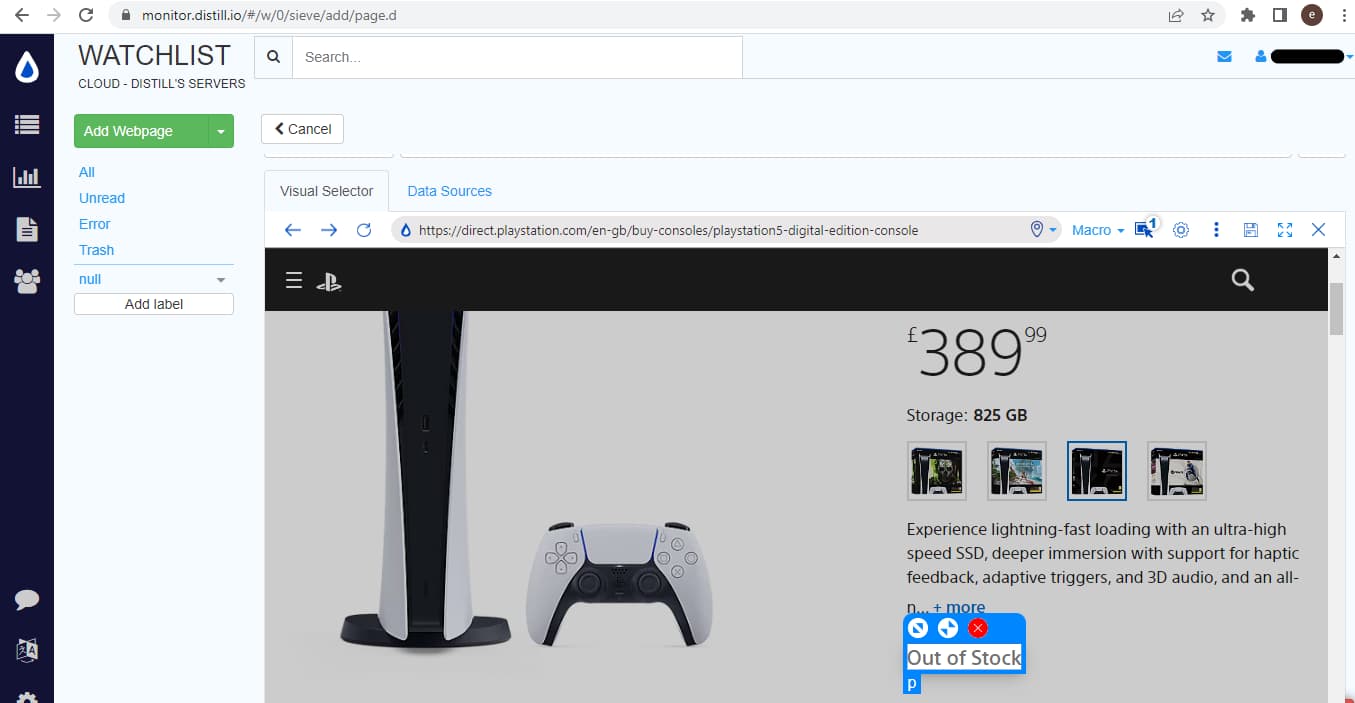 Save your selection, and set your check frequency, condition, and alert type to complete your monitor's settings.
For your case of monitoring PS5, when you have selected "Out of stock,." Distill notifies you when it changes at any point. But you can also set up specific conditions to get restock notifications as per your requirement.
The "condition" is a crucial setting when tracking a website for PS5 availability or deals. "Condition" is what the monitor should "see" when it checks the webpage for it to notify you.
For a "condition" that alerts you when the PS5 is back in stock, set "if text has "available." If the "out of stock" section you are tracking changes to "available" or "add to cart," the monitor will alert you instantly.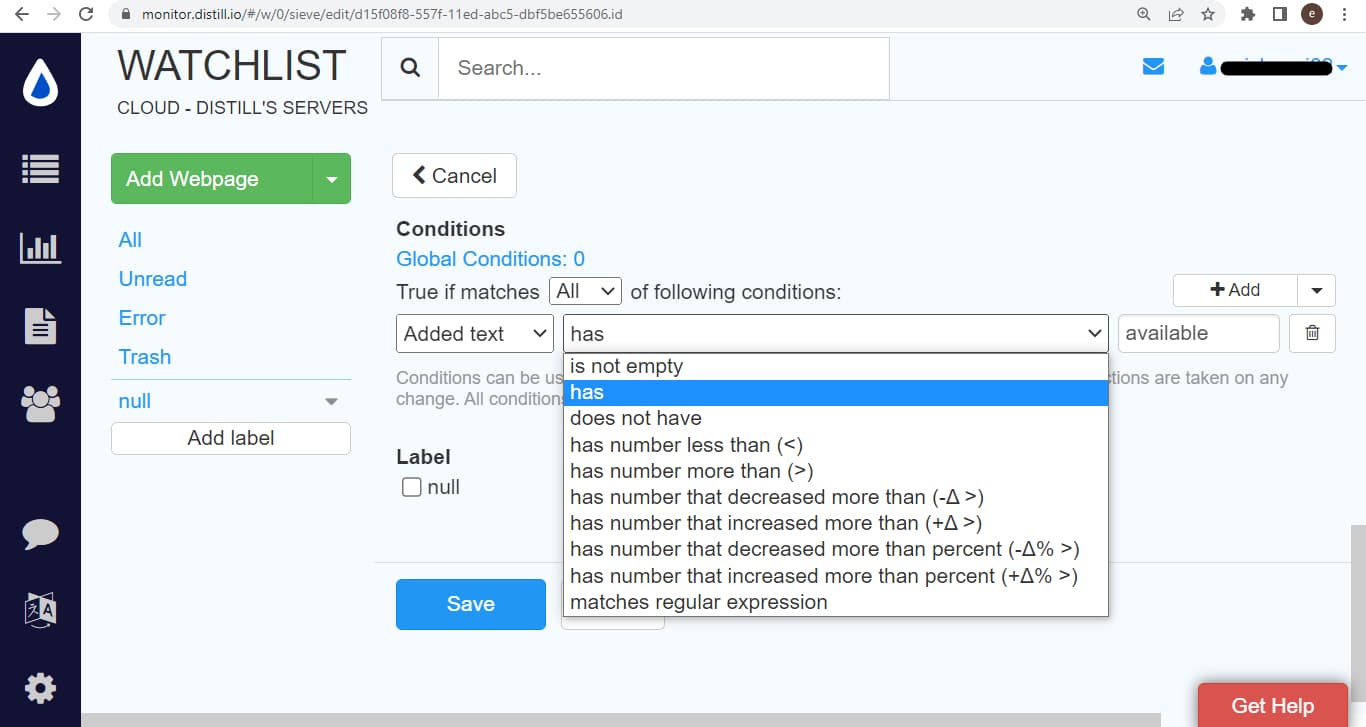 If you're not sure whether in-stock items will read "available" or "in-stock," then you should set the condition "if text does not have out of stock."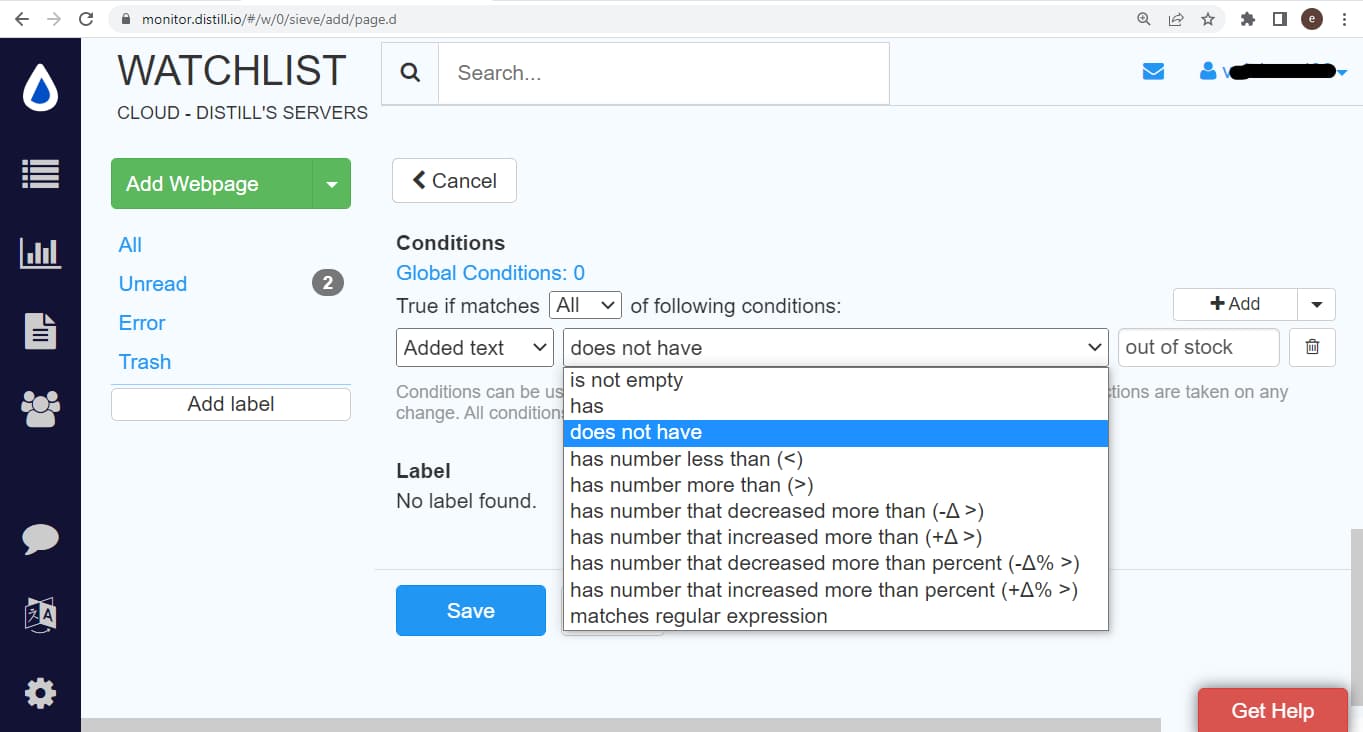 With this condition, the distill change monitor will alert you once the "out of stock" section of the web page changes to anything other than "out of stock."
How to set up monitors to track price changes of PS5
Using Distill conditions, you can set up monitors to track price changes of the PS5 console.
Sometimes, you'd want to be alerted if the price of the PS5 on a retailer's site is a particular amount. After importing the retailer's webpage to Distill's viewport, select the area around the price.
For example, consider the Amazon webpage listing the PS5 for $499.99. To be alerted when the price drops to $400. Select the price area of the page to monitor and set the condition "if text has number <400."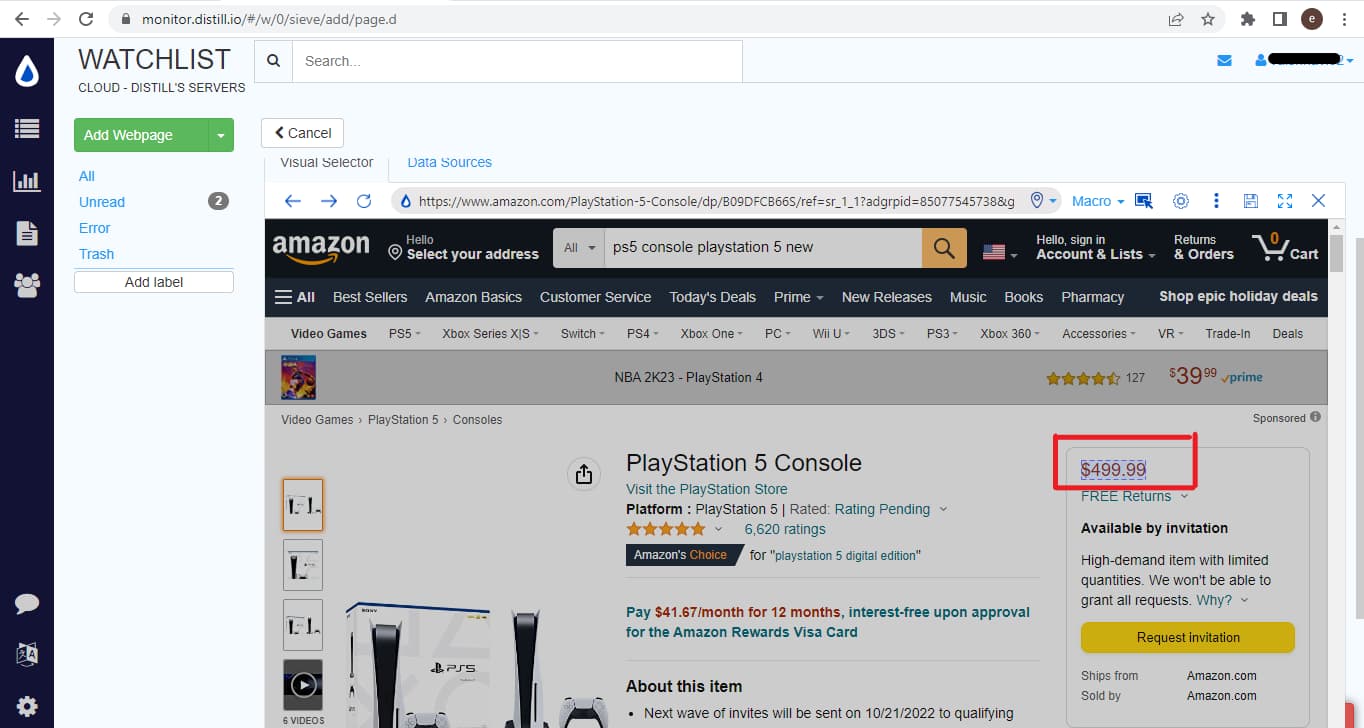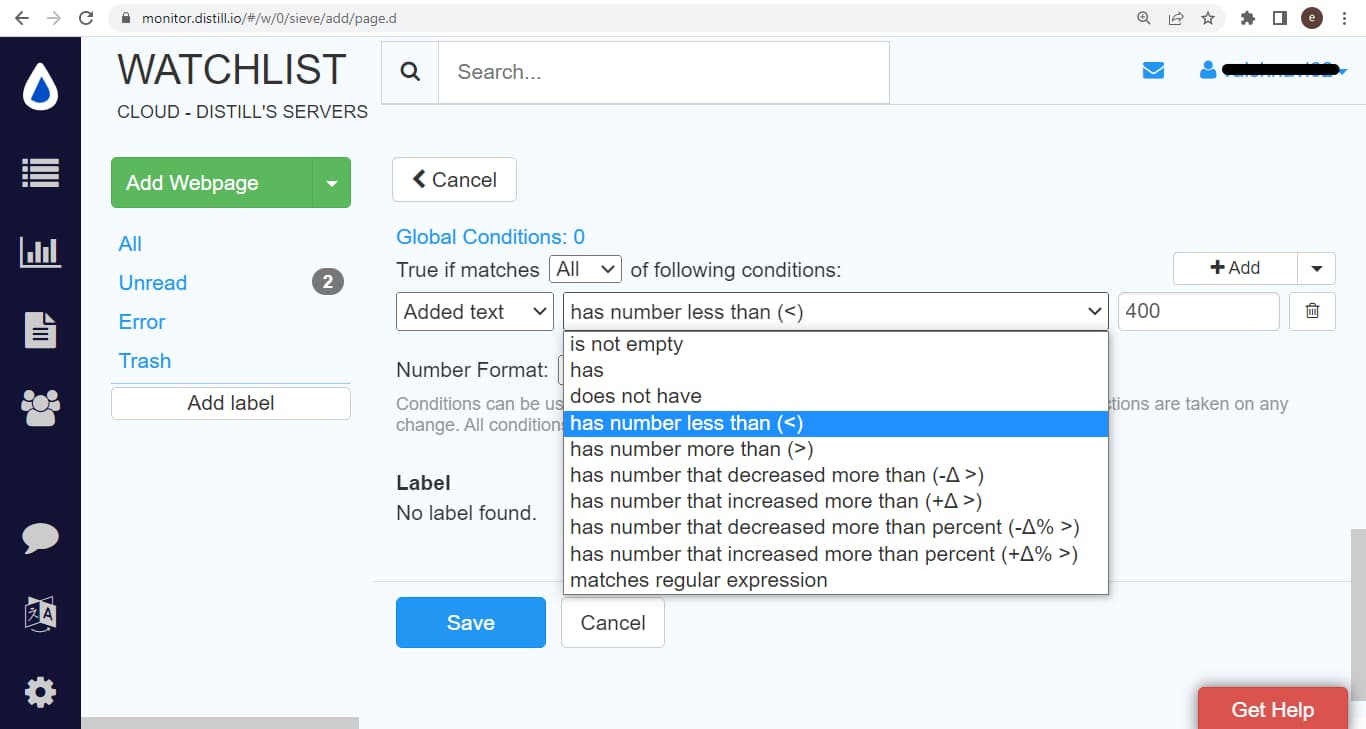 How to set up monitors to track posts on forums for specific PS5 discussion
Sometimes, the best places to find information about PS5 availability and deals are PS5 communities in discussion forums and threads.
Some reliable discussion forums to monitor discussions for PS5 availability, restock, sales, and offers include:
You can use the Distill web page monitor to track any PS5 online community for PS5 restock and deals. The Distill Chrome extension makes setting up your monitors easier.
Consider tracking information about when a retailer goes live with restock on the PS5 Restock Updates and News community. Click the "restock" link on a post to filter the Reddit thread to show only posts with restock updates.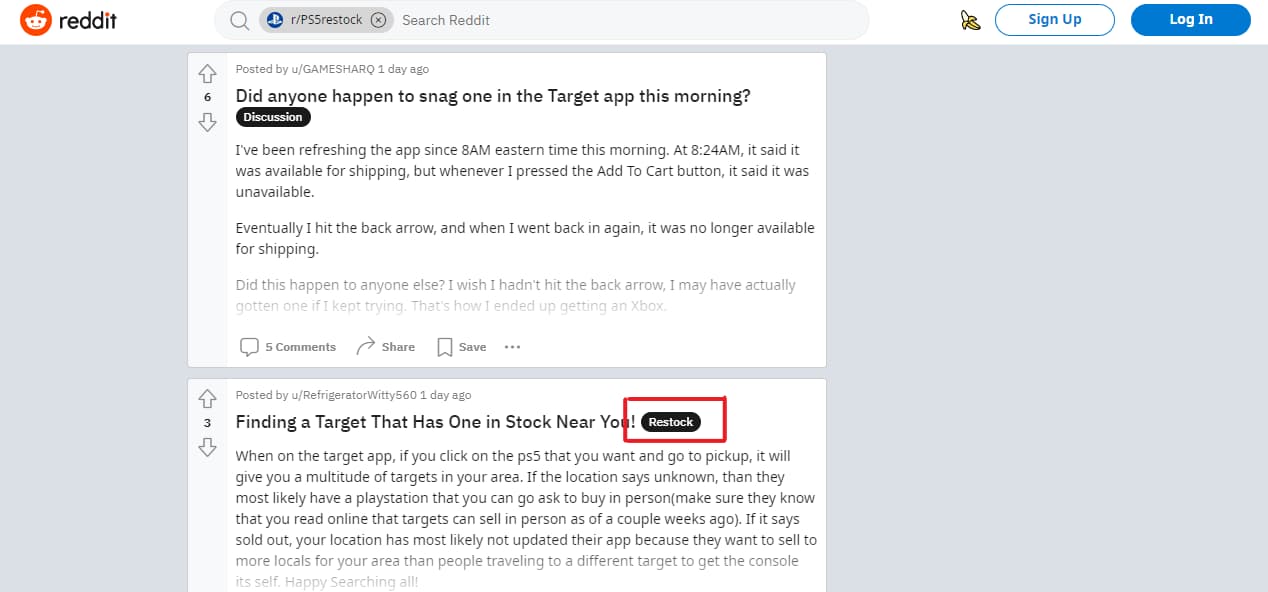 On the restock updates subreddit, click the chrome extension. Then choose to monitor full page.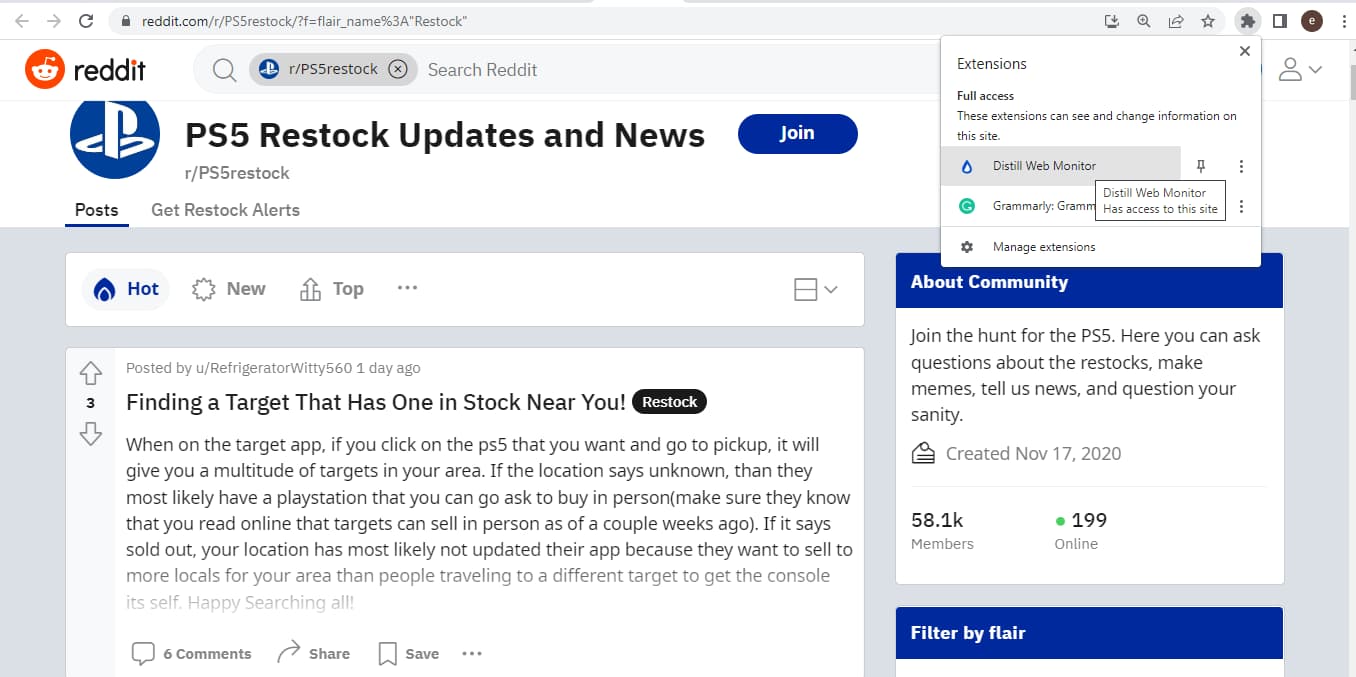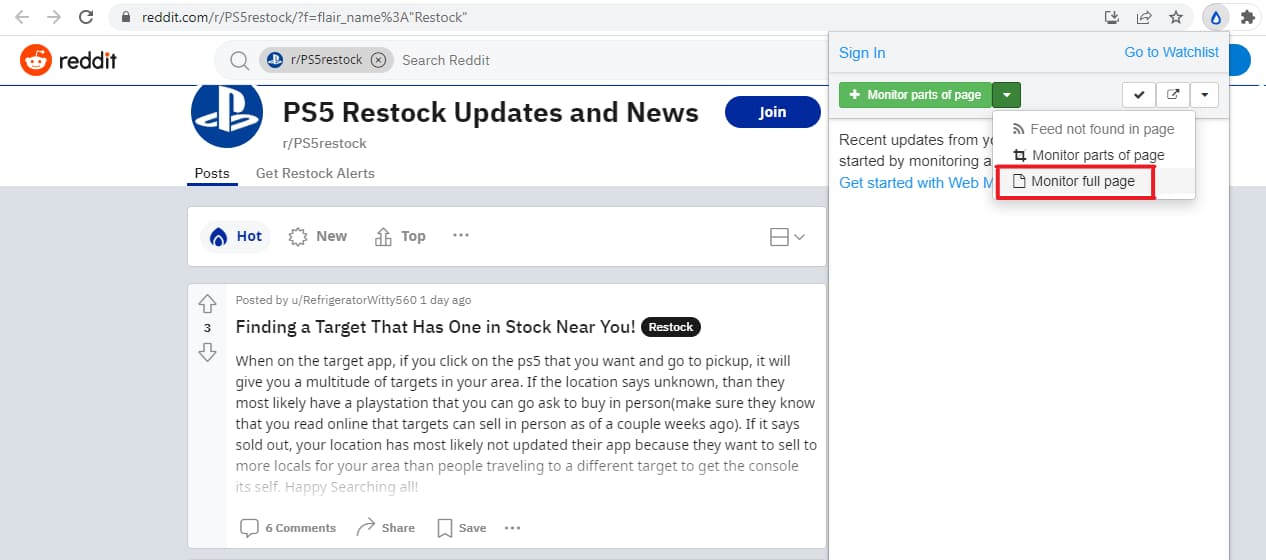 Then set your check frequency, alert type (SMS or email), and condition. A condition like "if text has in stock" will make the monitor alert you anytime a new post on the forum mentions the word "in stock."
Then with one click, you can check to see whether it is the PS5 console that is in stock and in what online store.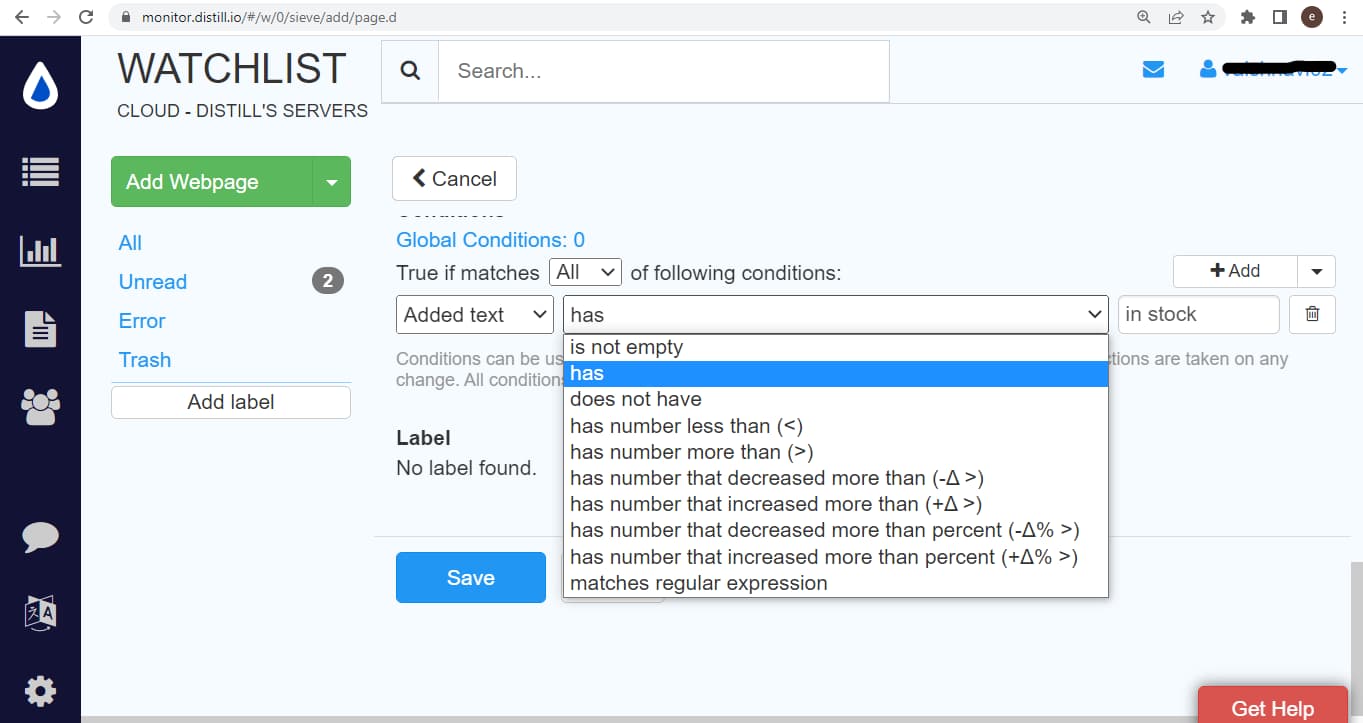 How to find the best deal for PS5 with Distill?
While finding a PS5 console is good enough, finding one having a promotional offer is better. With Black Friday, Cyber Monday, and Thanksgiving around the corner, you may discover PS5 deals if you use Distill to track PS5 retailers.
Amazon is one of the best places to find the best Black Friday PS5 deals.
Most of the available PS5 consoles are in the hands of scalpers, and many of these people favor Amazon. Also, Amazon items are known for being available at relatively lower price points, and the website is famous for fast and free shipping, especially for US purchases.
How to set up the Distill tracker to get alerts on PS5 deals on Amazon
To track PS5 deals on Amazon, click the Distill Chrome extension on the Amazon PS5 product page. Choose to monitor the full page (since you don't know the particular part of the page that will feature the deal).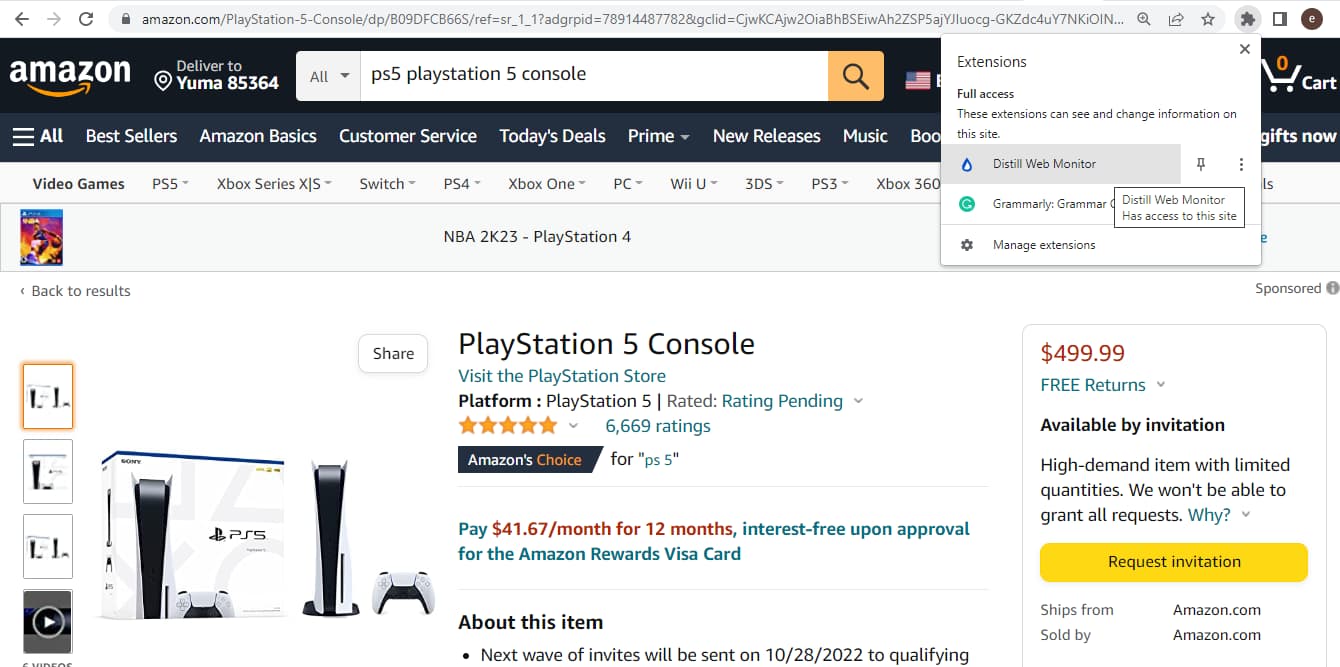 You can set different "conditions" to alert you of deals.
One way is to monitor the appearance of the word "with deal" anywhere near the product price. In this case, set the condition "if text has with deal."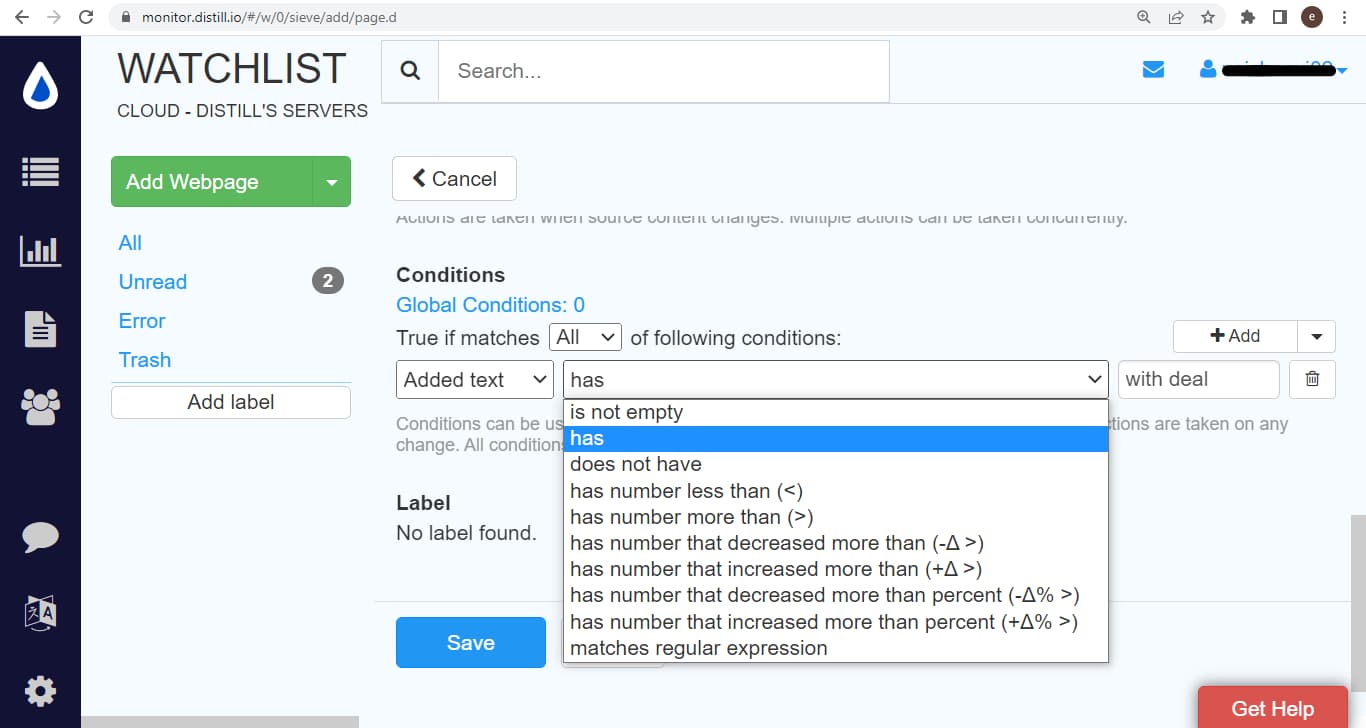 This condition is based on the fact that when there is a deal on an Amazon product, the product page shows three price figures - List price, with deal, and you save.
See the screenshot showing the "with deal" detail on an Amazon item that comes with a deal.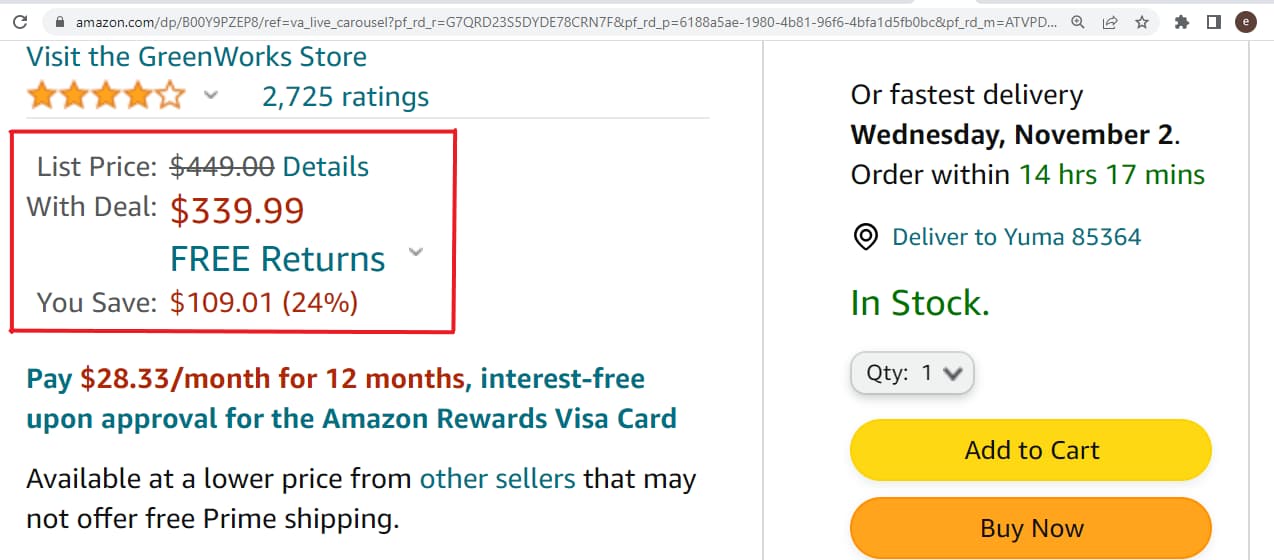 If you set the "if text has with deal" condition on the PS5 Amazon product page, anytime there's a deal on the PS5 console, and the web page shows the "with deal" price, the web page monitor alerts you instantly.
Another way to set a "condition" to track deals is to monitor a percentage price drop on the page. For example, you can set the monitor to alert you if the PS5 price drops by more than 20%.
For this, you need to select (to monitor) the price section of the page and use the condition "if text has number that decreased more than percent (-Δ>) 20."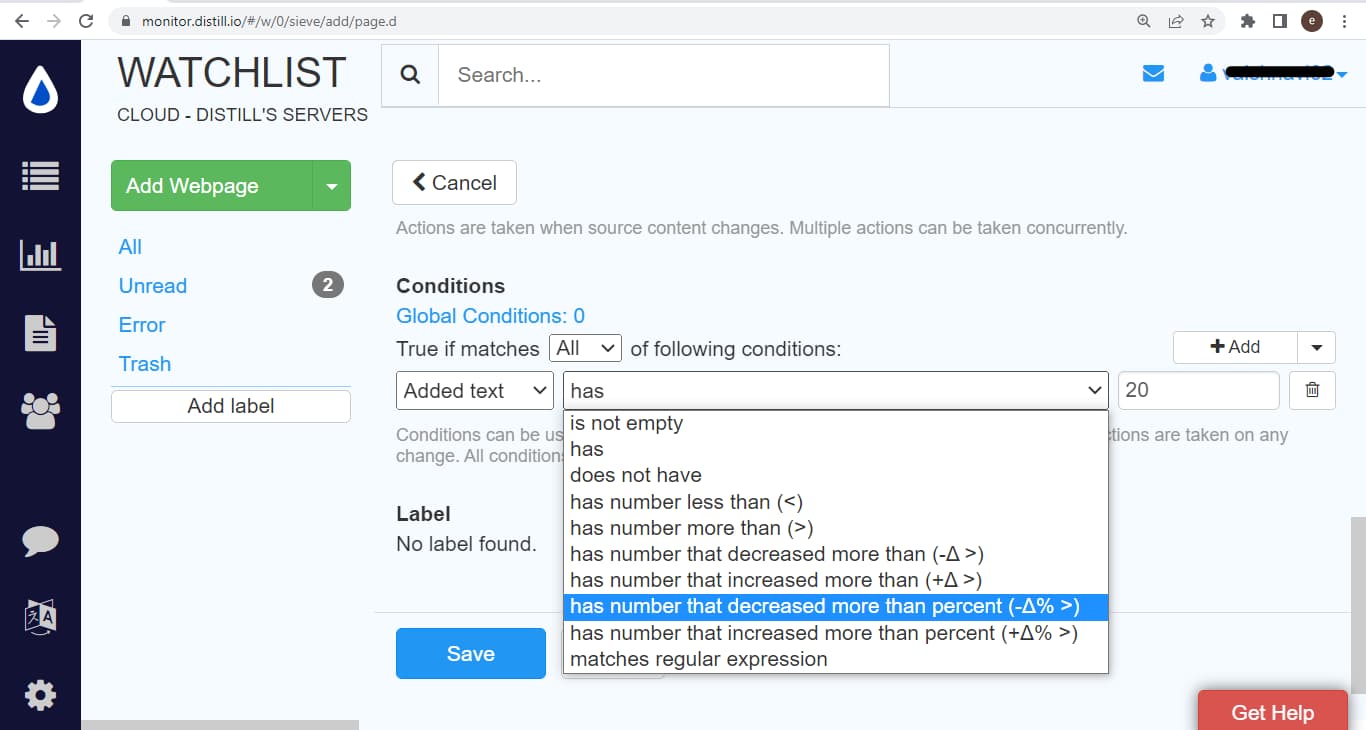 What else can you do while checking PS5 restock updates?
PS5 purchase parameters that you can track using Distill include stock availability, changes in price, deals, etc.

You can set up Distill to track PS5 availability and deals on all the legitimate PS5 retailers (including Sony online store, Amazon, Best Buy, GameStop, etc.).

Distill can also monitor posts in discussion forums and threads and alert you on PS5 availability and deals.

Paid users can use Distill's smartphone apps to get instant PS5 restock notifications on their phones (on the go). Download mobile app here.

You can set up local monitors which run in your browser or cloud monitors which run on Distill's servers (with no dependency on your local computer)

Distill local monitors can check for site updates every 5 seconds. Your subscription plan determines how often cloud monitors can check for updates.

Paid plans have shorter check frequency, so they give returns for quick turnover items like PS5. A free plan checks for site updates every 6 hours, but the paid plans can check every 2 - 10 minutes.
Conclusion
Whether you want to know when PS5 consoles will be available or want to snap up PS5 deals, the Distill web page monitor is the perfect solution.
Distill monitors will help you automatically check retailers' websites (for PS5 availability and deals) and online communities (for discussion on PS5 retailers restocks and offers).
Want to experience the true power of console gameplay? Then sign up for Distill today so you can snap up the futuristic PS5 gaming consoles whenever they become available.