Track and buy Vinyl Records on Discogs using Distill
Vaishnavi and Ishani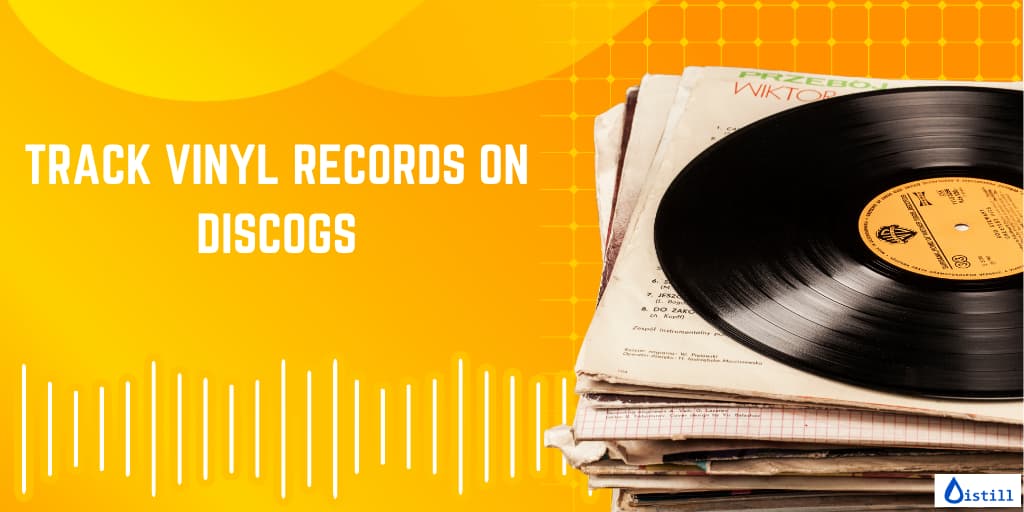 The revival of Vinyl Records Collection
Vinyl records have gained popularity in recent years, with many people enjoying the tactile experience and perceived sound quality of listening to music in a physical format. For some, collecting and tracking rare vinyl records and albums has become a hobby, and some collectors are willing to pay top dollar for limited edition and rare records. Some of the rarest and exclusive limited edition vinyl records have sold for hundreds of thousands of dollars.
1. What are the best albums to own on vinyl?
Speaking of rare music - "Once Upon a Time in Shaolin" is a super rare and expensive album by the American hip-hop group Wu-Tang Clan. It's the group's seventh studio album, and there's only one copy of it in existence. This album was purchased for $2 million by Martin Shkreli in 2015 and is currently one of the most expensive music ever sold.
Since the last decade, vinyl records have been selling out quickly. A few recent examples of recordings that have been in high demand include Taylor Swift's Midnights vinyl Album, George Ezra's Gold Rush Kid, Foals' Life Is Yours, and Tears for Fears. the overload by yard act and the breaking point.
In this blog, we will delve into the world of collecting rare vinyl records and albums and explore some of the best places to find vinyl records for sale online. There are tips and instructions that will help you track and buy vinyl records on Discogs using the Distill browser extension. Whether you are just starting on your vinyl collection journey or are an experienced collector, this blog will provide useful information on tracking down those hard-to-find records and building a collection that you can enjoy for years to come.
2. Which is the best place to buy vinyl records online?
Introducing…..Discogs!
Discogs is a comprehensive online music database and marketplace popular among collectors, DJs, and music enthusiasts. The website features information on over 12 million music releases and over 6 million artists, making it a valuable resource for finding and learning about specific releases and artists. Discogs is one of the best places to buy vinyl or music records online.
In addition to its database, Discogs also has a marketplace where users can buy and sell new and used music releases, such as vinyl records, CDs, and cassettes. It has over 11 million music releases and about 456,000 users worldwide. The Discogs marketplace is user-driven and offers tools for tracking personal music collections and buying and selling music-related gear. This makes it a great resource for finding hard-to-find releases and for finding accurate and detailed information about specific releases.
3. Exploring the Discogs Marketplace: Tips for Buying and Selling Records
Discogs Marketplace is an online platform that allows vinyl collectors to buy and sell rare and limited edition records. It is the largest online vinyl marketplace in the world, with millions of records listed for sale from independent sellers across the globe. In addition, buyers can read reviews from other buyers to make sure they are buying from a reliable seller. Discogs Marketplace is a great resource for vinyl collectors, with a wide selection of rare and limited edition records available at competitive prices.
3.1 Must do's on Discogs marketplace as a buyer/seller?
● Track an unavailable record album and be notified when it becomes available again
● Monitor parameters, like:
The cost of shipping ( To buy an album)

Statistics like the number of people selling or wanting to buy a music album (To sell an album when it's in demand)
● Set conditions to give you alerts when the price of a musical record or album has dropped below a certain price.
● Track the best-selling and in-demand vinyl collectibles, record labels, and more on Discogs.
4. Getting Discogs vinyl Wantlist notifications
If you are keen on buying your own vinyl records, you might consider setting up alerts for specific items you are interested in or you might regularly check the marketplace manually for new album listings that match your criteria (sounds tedious).
You can automate this in two ways:
You can add items to your Discogs watchlist by clicking the "Add to Watchlist" button on the item's page. You can use the watchlist to keep track of discog records, vinyls, and albums you are interested in purchasing. However, this confines you to Discogs's email queues. Important alerts may end up in your spam. Discogs also has no provision for push notifications in the mobile application, though the same has been promised in the application features for quite sometime. With the absence of such features for you may miss out on important updates on your vinyl records.

Using Distill extension to track Discogs will automate tracking a vinyl album availability. You can even find new album releases and price changes on your want-list albums. You have two clear advantages of using Distill extension.

Firstly, the ability to pick and choose alerts on anything you want to track on an album (eg: availability, shipping details, price changes etc).

Secondly, reliable instant push notifications. At affordable subscription plans, users can also get Distill mobile app notifications for availability of vinyl records, new releases, price changes etc.
To set up alerts on Discogs marketplace to track availability and get instant notifications for any item on Discogs, you can use the Distill extension. Let's take a look at how you can use it.
4.1 Installing Distill on your browser
To install Distill in Chrome, follow these steps:
Step 1: Go to Distill and click the Download Chrome extension button.
Step 2: Click Add to Chrome button and a pop-up will appear. Then, click the Add extension button.
Step 3: Click on the Extensions icon and select the Pin icon to pin Distill on your browser for easy access.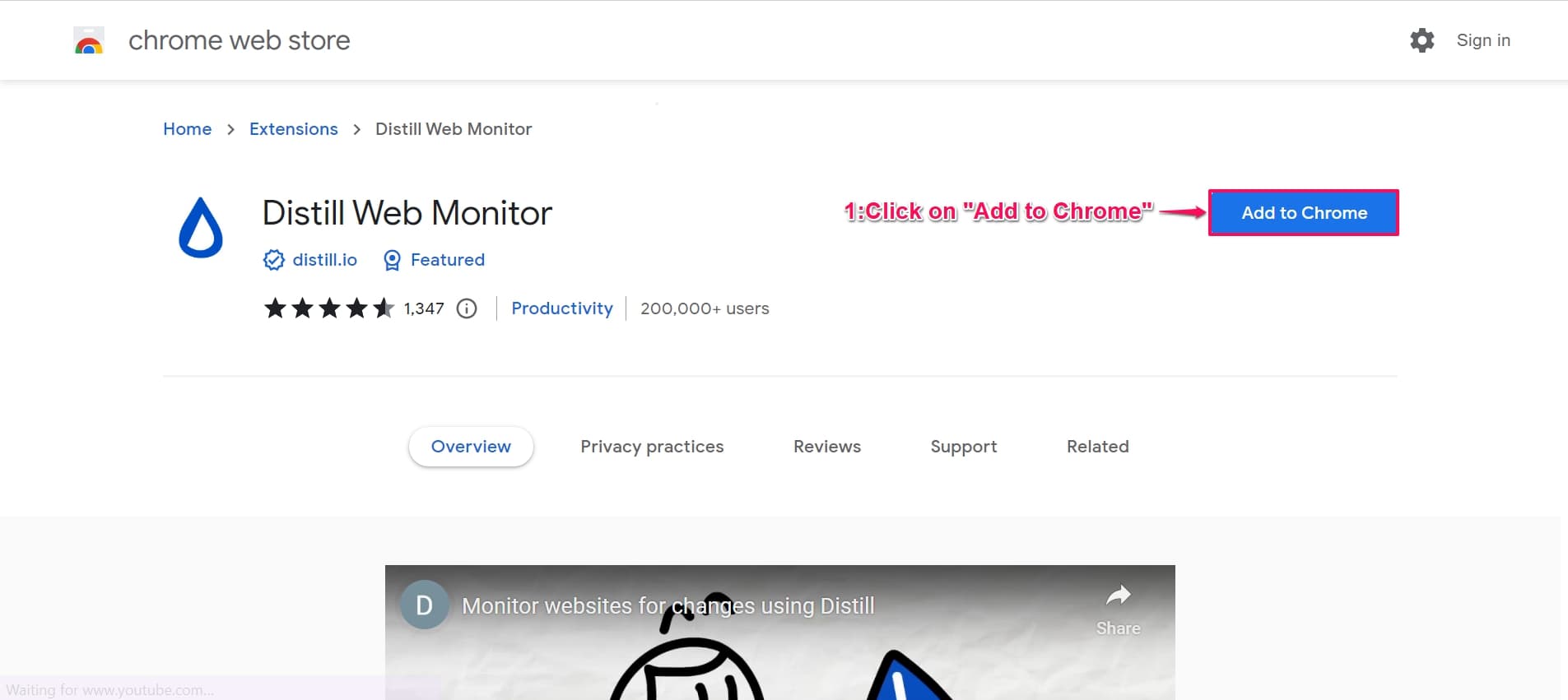 Note: Distill is available on Opera, Firefox, and Edge as an extension too.
4.2 How to Track availability of a rare vinyl record using Distill.io
For instance, Frank Ocean, the American singer, songwriter, and record producer, restocked the vinyl edition of his album "Blonde" on his website for the first time since 2016 on December 17, 2022. The restock came just months after the album was released on streaming platforms. The latest vinyl edition of "Blonde" has now sold out as it is a limited edition, which drove the demand for it even more. Now the vinyl record is unavailable and there are fans eagerly waiting to buy it. Is the situation relatable? Follow these steps
4.3 Set up Discogs availability tracker with Distill extension.
We navigated to the Discogs Marketplace webpage to find Franks Ocean's"Blonde" vinyl. Which, when this blog is being written, is unavailable in the United States. To track when it becomes available in the US, follow these steps:
Step 1 - Go to the required music album page on the Discogs marketplace and then click on the Distill icon. Select the Monitor parts of the page, and the Visual Selector will show up.
Note: In the example illustrated here, we are tracking Frank Ocean's Album "Blond" to buy it as soon as it is available in the United States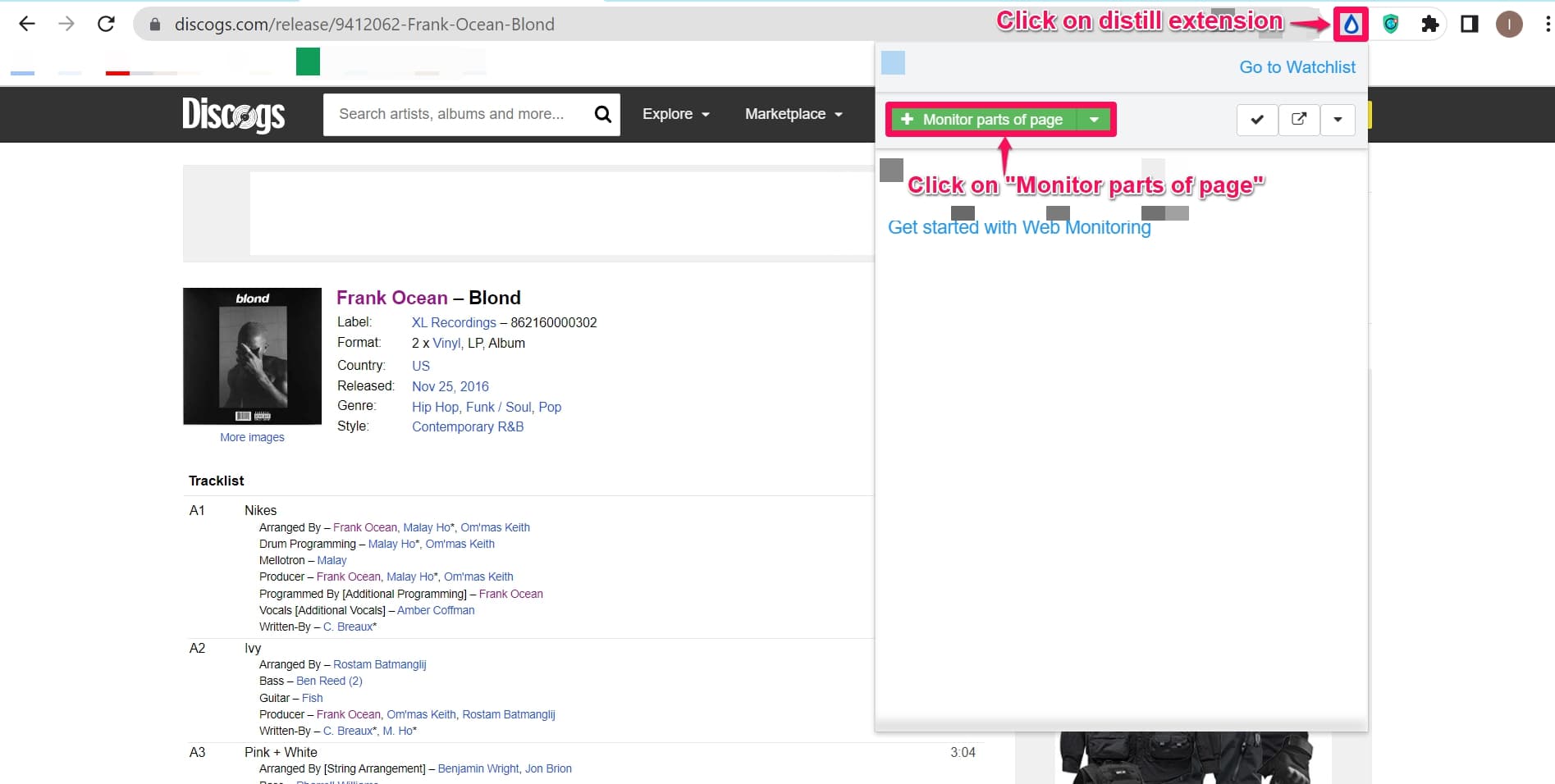 Step 2: Select the section of the webpage that says "Unavailable in the United States" and then click the Save selection button. The monitoring option page will show up.

Step 3: In the monitoring option page, you can customize how your monitor works. Choose a device to run checks on the webpage (Browser - for frequent checks and local pop-up notifications (or) Distill's cloud servers for running checks round the clock). You can also set a frequency for checks based on your requirement. Eg: Every 3 hours.

Step 4: You can even configure your alert mode via email / SMS/ Discord etc. Check out the subscription plans to compare features that suit your tracking requirement.

How the Distill availability tracker works:
The words "Unavailable in the United States" becomes "Add to cart" if it is available to ship to the US. This is detected by Distill, and it triggers a notification to you.
4.4 Customize Discogs wantlist alerts and set up price tracking for Vinyl records
You can track only those records that fit your budget, are shipped to your country, and are in the condition you prefer. (FYR: There are 4 conditions, namely: NM or M-: Near Mint, this is the best record/album condition available; VG+: Very Good Plus; M: Mint; VG: Very good)
For example, if you want to track the following for an album or vinyl record you want to buy:
Album has dropped below $400

Ships from the United States

Has NM condition
First, filter out the item that matched the condition and the shipping location, then track the Price. You can use the options in the left-side menu panel on the Discogs marketplace webpage for a particular record or music album.
Filter 1: Narrow down based on which geography/ country the album ships from

Filter 2: Search Discogs based on the media condition of the music album. Here, we will choose Near Mint condition

Now you will have landed on a particular Discogs marketplace URL, ie. https://www.discogs.com/sell/list?q=frank+ocean+blond&condition=Near+Mint+%28NM+or+M-%29&ships_from=United+States where you can set up your own customized alerts with Distill. You can then follow the steps given below:
Step 1: Click on distill extension and click on "Monitor parts of page"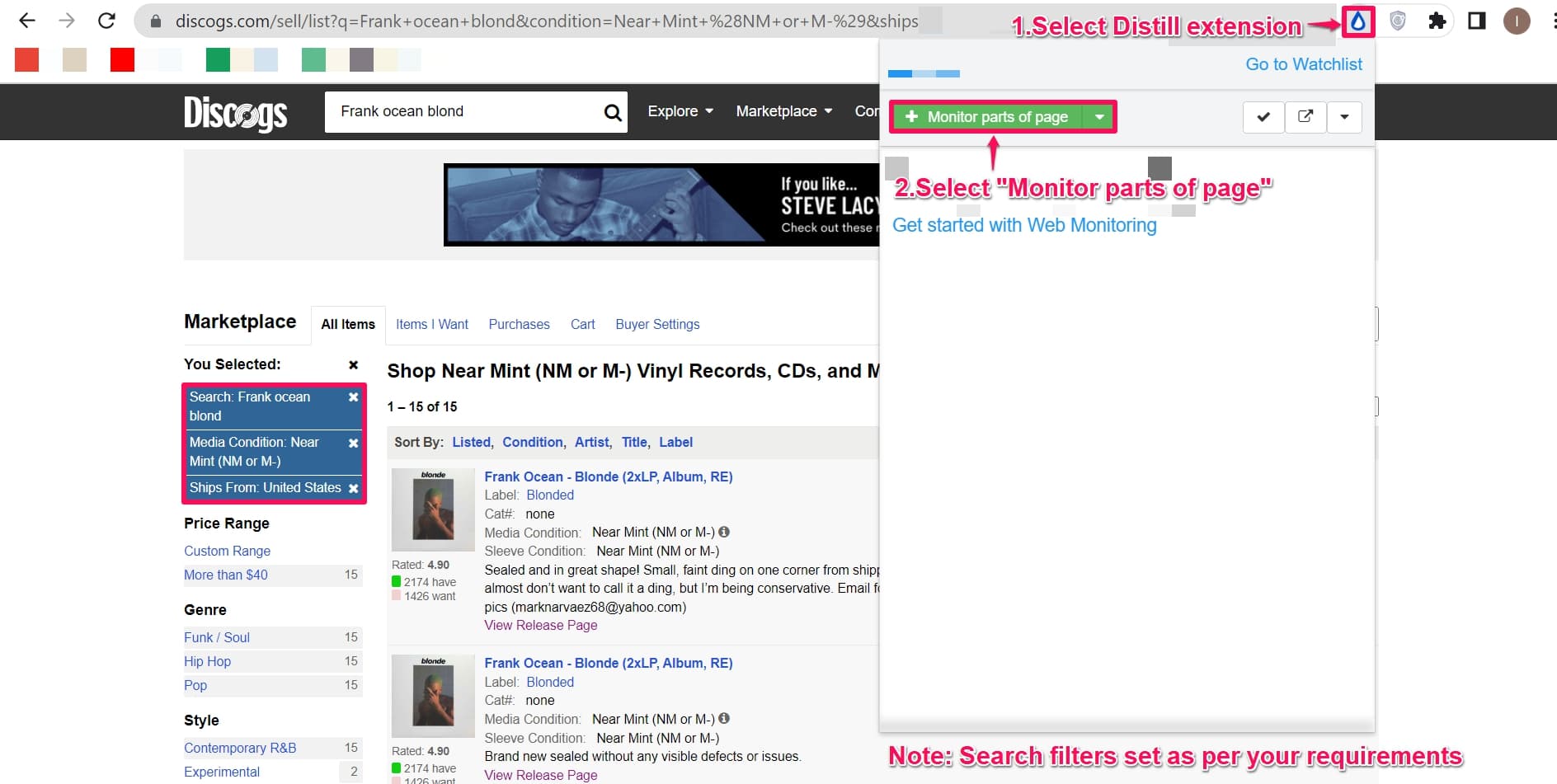 Step 2: Click on the prices of albums that you want to track on the webpage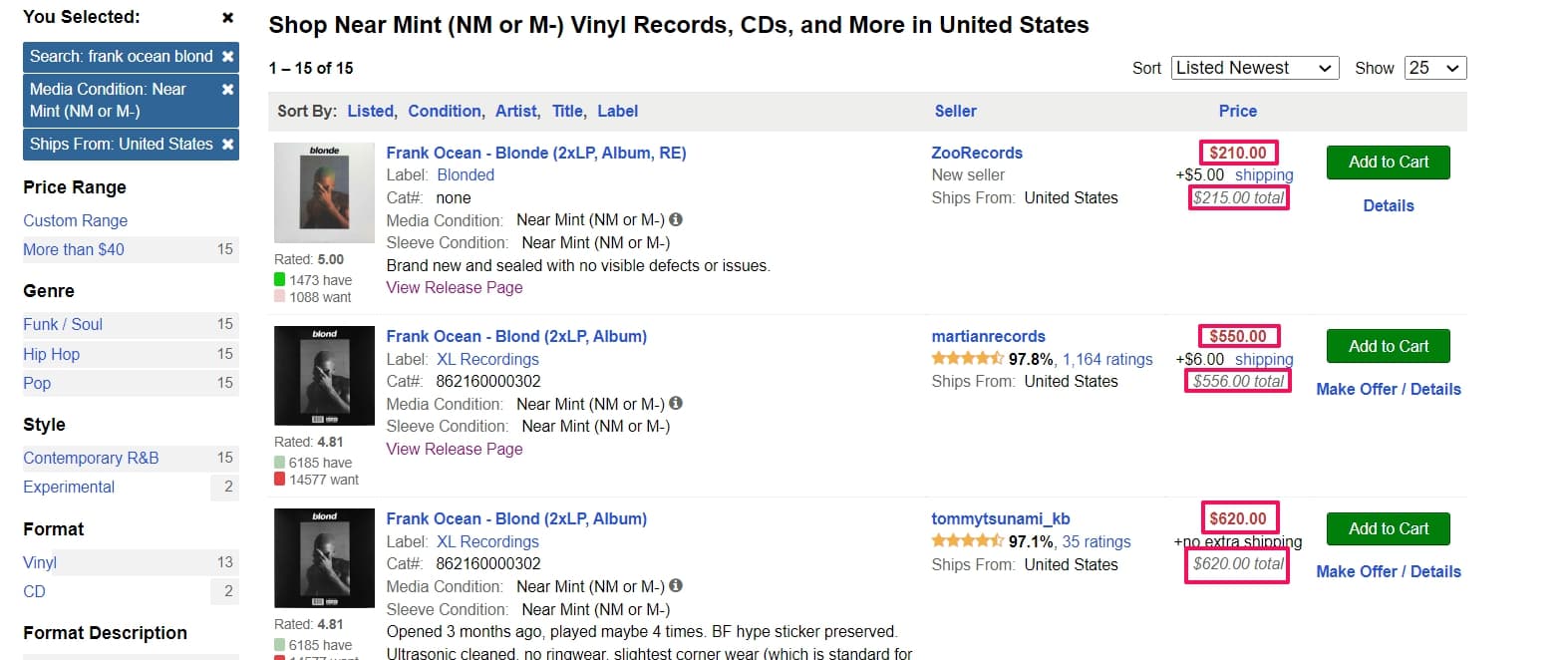 Step 3: In the monitoring options page select the device (choose your browser) and interval to run checks on price. In this case we would like distill to check for changes in the price every 30 mins.

Step 4: You can then select the alert type and add conditions. Under conditions you can select "text" and "has number less than" and type in 400.
Note: The condition prompts distill to check if any of the album price elements selected has fallen to $400. Once it detects such a change it will alert you.

Step 5: Click on "Save"
4.5 Step by Step guide to track statistics for Vinyl records:
In the example below, we will show you how to track the median price and get notified when it rises above $500. Tracking the statistics might be useful for sellers seeking for chances to sell their collection at higher prices. Buyers can also track the number of sellers and the lowest price at which the vinyl record is available in the marketplace.
You can track any album with Distill, for our example we will track Discogs for Frank Ocean's Blonde vinyl.
Step 1: Go to the Frank Ocean- Blond recordings webpage and then click on the Distill extension icon. Select the Monitor parts of the page and the Visual Selector will show up.
Step 2: Select the "Median price" from the statistics section.

Step 3: Click the Save selection button and the monitoring option page will show up
Step 4: In the monitoring page
Set the Device to Google Chrome. This will monitor the page when Google Chrome is open on your device.

Set the interval to 30 mins. You can set this to a lower value if you like, however, this can quickly deplete your monthly checks quota. To increase the number of checks, you can upgrade your account.

Enter your Email. To get alerts of changes. Additionally, you can upgrade your distill account to get instant notifications via SMS or the Distill mobile app.

Set the condition to make sure you get notified if the median price has increased by more than $550.

To track the drop in prices to less than $500, you can set the condition to "has number less than (<) and type 500.

Step 5.Click *Save.
4.6 Track new album or vinyl that just came up
Another way of using Distill is to track a new album or vinyl that just came up for a particular artist. This might be something you want to do if you're a music collector of a particular artist. For example, you wanted to look for a new vinyl by Taylor Swift. To do so:
Step 1: Go to Taylor Swift- Vinyl Collection site and then click on Distill icon. Click on monitor parts of page
Step 2: Using the visual selector, you can choose the section of the webpage where the albums are listed for sale. For this you can select the item description of any album on the webpage and click on the caret icon (>) to refine section of the page you want to track. In our case the selection would be the album listing section to see if something new comes up in that list.

Step 3: You can then click on the "Expand selection" option. You can keep clicking on this option until the entire section for albums listings is selected.

Step 4: Once you have narrowed to your selection to track, click on "Save Selections"
Step 5: In the Monitoring option page, select the Device, interval and how you would like to be notified. Keep the conditions as it is to receive notifications when a new vinyl collection is added or withdrawn.
Step 6: Click on Save.
4.7 How to sell and buy vinyl records on Discogs marketplace?

It's very important to keep track of the statistics of a Discogs vinyl. It will give you insights on the going rate of an album, the demand, and much more. Here are a few scenarios to help potential sellers and keen buyers who are interested to track vinyl records.
If you are looking to sell a copy of an album, the "Have" and "Want" numbers can give you an idea of the supply and demand for that particular album. A high ratio will indicate that there is a lot of competition and that you may have to price your copy competitively to sell it. On the other hand, a low ratio means there is a lot of demand for the album and you may be able to get a higher price for your copy.

The "Last Sold," "Lowest Price," "Median Price," and "Highest Price" can give you an idea of the current market value of an album. You can use this information to determine a fair price for selling your own copy or to see if you are getting a good deal if you are considering buying an album.

If you are a collector, you can use the "Have" and "Want" numbers to see which albums in your collection are the most sought-after or to see which albums you should focus on acquiring if you are trying to build a complete collection.
5. Conclusion
In conclusion, the Distill extension can be a useful tool for tracking the Discogs marketplace. It helps you monitor price and availability of vinyl records, and music albums, helping you make informed buying and selling decisions. You can even track new album releases and get instant notifications when they are available on Discogs.
You can download Distill extension for Chrome, Firefox, Opera, and Edge. Subscription plans will get you access to more frequent checks and instant alerts via Distill iOS app and Android app.
If you face any issues while setting up a vinyl record tracker on the Discogs marketplace, feel free to reach out to us on our community forum.