How to track auctions and get real time bid updates
Vaishnavi Srinath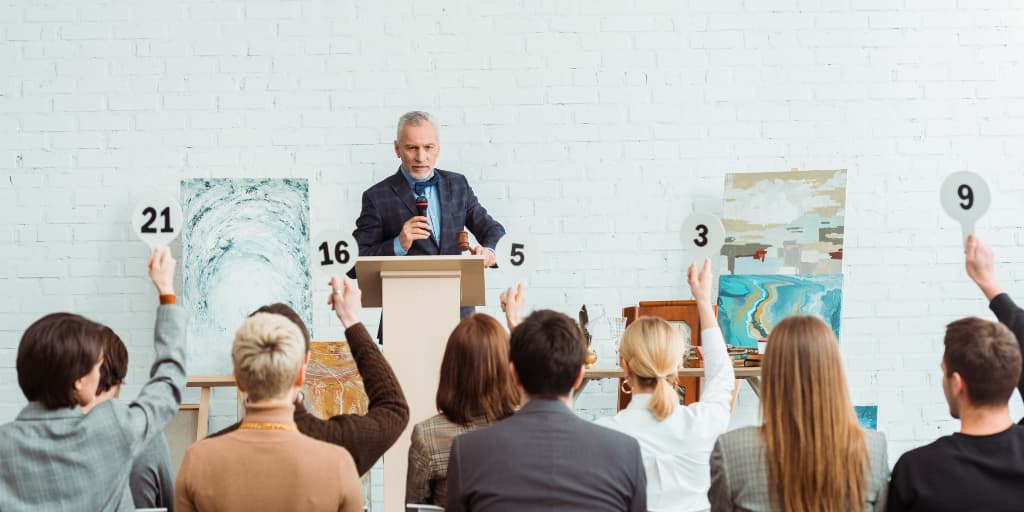 Online auction websites have revolutionized how people buy and sell a wide range of goods and services in the digital age. From vintage collectibles and fine art to electronics and rare memorabilia, online auctions cater to diverse interests and tastes.
Among the leading platforms, eBay is a global giant, offering an extensive selection of products spanning numerous categories. Beyond eBay, specialized auction websites such as Christie's and Sotheby's cater to connoisseurs seeking high-end art and collectibles. In contrast, niche platforms like Wine.com and Heritage Auctions cater to specific markets, including wine enthusiasts and collectors of rare artifacts.
These virtual marketplaces provide individuals and businesses with a dynamic platform to engage in bidding and secure unique treasures. Whether you're a collector looking for that prized item or an investor seeking the perfect opportunity, getting real-time auction updates is crucial. This article explores avenues to stay ahead in online auctions, we'll share tips, tricks, and handy tools you can use.
For this blog, we'll be using Sotheby's as an example. It is a leading auction house known for selling a wide range of valuable items, including fine art, jewellery, rare books, and collectibles.
How do buyers and sellers leverage page monitors for auctions?
As a buyer, one needs to be well-prepared and strategically informed to secure their desired items. It's imperative to harness the power of tools that keep you ahead in the bidding game. One of the most important assets you could use is a page monitoring tool. This could come in handy in many ways, to name a few:
Real-time updates on auction listings, bids, and changes
Check item availability and get notified when they're listed.
Price drop alerts for when an item's price reaches their budget.
For bidding insights and analyzing bidding behavior, auction dynamics, and understanding of bidding timing
Page monitoring is valuable for buyers and sellers who partake in online auctions. Here's why.
Buyers can track new listings, keep track of upcoming auctions, bidding activity and, make informed decisions, and time their bids strategically. Real-time insights these tools offer enhance the buyer's ability to secure desired items.

Sellers, on the other hand, can set up auction item monitors to receive instant alerts when there are changes in their auction listings. This includes notifications about new bids, inquiries from potential buyers, and updates to item availability.
One such tool you can consider is Distill. It is very easy to use, and you can get started immediately by downloading it as a browser extension.
How to use Distill to set up auction monitors?
First, make sure you have the Distill browser extension installed. It's available for popular browsers like Chrome, Firefox, Opera, and Microsoft Edge. You may also explore using the Desktop App, iOS app and Android app.
In this guide, we will cover the following use cases using Sotheby's as an example. Feel free to expand the section of your interest and learn to set up a monitor.
How to track bids on an ongoing auction?

In the case you want to track the current bid on an auction item you are eyeing. you'll want to track the section of the page that indicates the current bid.

Step 1: Navigate to the auction item's details page. Click on the Distill extension from your browser, and click "Monitor parts of page."

Step 2: The visual selector opens up. You can click on the section of the page you want to track. The selected section will be highlighted in black. You can even expand and contract the area of the section using the options shown below.

Notice all the selected sections of the webpage will appear in the preview. Once you are satisfied with your selection, click "Save selection."

Note: You can track any section on the webpage. For instance, you can track parameters like - estimate bid range, the value of the current bid and the number of bids placed, the date of lot closing etc. Having too many selections in a single monitor may be confusing, so its better to make individual monitors for each parameter you wish to track.

Step 3: You will be led to the "options page". Here you can choose the device where the checks happen, set a frequency for the checks, and choose an alert mode to receive updates.

You can explore our subscription plans to discover more alert options that are available with paid plans.

Step 4: You can even set up custom alerts by adding conditions to your auction page monitors. Conditions you can set may include a numeric range to check if the bid is in your budget range. Do a text match for a particular word related to your item. You can read more about how to use conditions here.

Step 5: Once you are all set, click "Save."

Now, your monitor has been added to your watchlist. Distill will notify you whenever a new change in the auction data has occurred on the page you are tracking.

These checks happen at the frequency you have set. Please be mindful that in the free plan you are allowed only limited notifications via email, be careful not to exhaust them by setting higher frequency checks.
How to stay informed about the dates of an upcoming auctions and when bidding is live?

You can navigate to the upcoming auctions calendar page and even filter out the auctions of your interest. Once you land on the feed with the relevant auctions. It will be displayed as a list of auctions by title. In this case, you'd be interested to track the list as shown in the image below.

Use the visual selector to track the auction list. You will see it it highlighted with a black panel. Use the expand/contract option to ensure you are focusing on the right area of the auction calendar page.

This way, you can find new auctions as they are announced, and track when bidding goes live (auction status changes from "Preview" to "Bid"). It even tracks any text change like the time and date of the auction.
How to automate placing bid once auction is live?

The macros feature in Distill allows you record and replay your interaction with a webpage, creating an automated version of the steps you would manually perform. In the case of auctions, you can record actions like placing a bid whenever the auction is live.

You can read more about Macros and learn how to record them.

Note: Once you record your macro to place a bid on an item in the lot you can reuse it on other items as long as the layout of the page and the interaction sequence remains the same. However, you will need to modify the starting URL to match the auction item you want to track.

You can trigger a macro based on a change, a condition being met ,etc. To invoke a macro that has been pre recorded, you will need to click on "add action" in the options page and choose it from the drop down list. Do remember that these work for your local monitors only.

Some of the ways in which you can utilize this feature would be to:

Place a bid immediately when auction is live
Place a bid when a condition is met (eg: Bid price falls in your budget, when an auction item name matches your keyword)

If you have more questions on how to set this up please reach out to us on Distill forums and our community will help you out.
How to get real-time alerts when auction results are announced?

To get real-time alerts of auction results, you can set up a monitor and select just the filtered auction results page. You can even sort it based on a chronological order to get the latest change alerts. Whenever a new auction result list is added, Distill will detect a page change and alert you. You can follow the same steps as in the above section to set up your monitor.
Download monitor JSON
If you'd like to get started right away here are ready-to-use downloadable JSONs of Monitors for the sections mentioned above.
You can simply import this monitor and configure your preferred notification mode by editing the monitor. Read more about importing JSON here.
Please note these monitors are set up for Sotheby's web pages. Depending on the layout of the auction page, the sections you might want to track may vary. So we suggest you use the visual selector to refine your selections as per your requirement.
Conclusion
Now that you are familiar with the different ways you can track an auction page, we suggest you to experiment more based on what you'd like to be informed about. Using a page monitoring tool like Distill for tracking auction webpages is a game-changer.
With real-time updates on auction bids, alerts for upcoming events, and item details at your fingertips, you can make more informed decisions and never miss out on the perfect bid—the power to win those coveted items you have been waiting to win.
You can download Distill for free today. It is available on Chrome, Firefox, Opera, and Microsoft Edge. You can even use the Distill desktop App
Based on your requirement, you can browse the subscription plans for access to more frequent checks and instant alerts on the go via Distill iOS app and Android app.
Please feel free to reach out to us on Distill forums in case you have any queries or need assistance while setting up a tracker for an online auction you are interested in.