Find Best Amazon Black Friday Deals 2022 - Alerts & Price Drops
Vaishnavi Srinath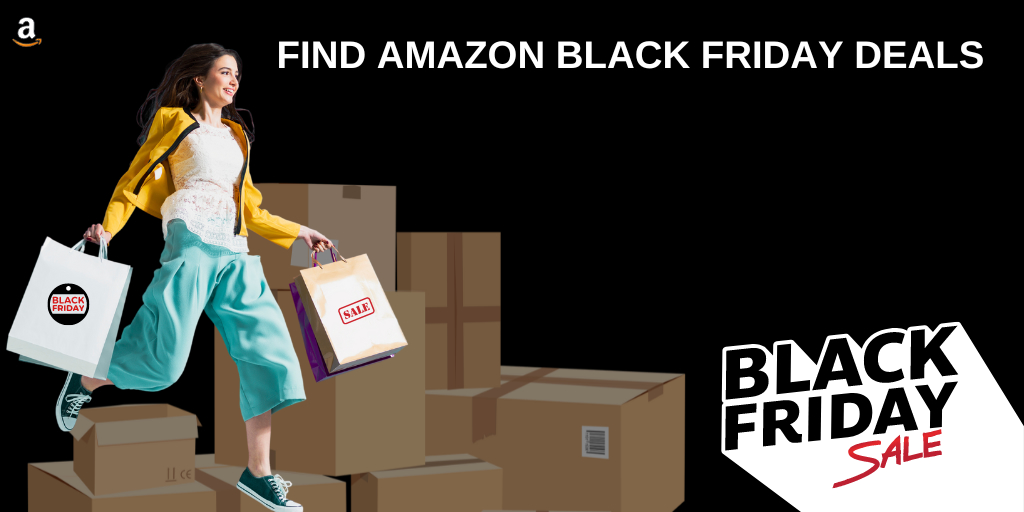 The holiday season is near. And while the holidays are fun and exciting, the real excitement comes from the opportunity to snag those products you've had your eyes on for months.
This year, Amazon Prime Day Early Access Sales started the holiday shopping season on October 11th and 12th, with 48 hours of heavily discounted sales. Black Friday (November 25th) takes the baton with a full day of sales, discounts, and special promotions. It is followed three days later by Cyber Monday, which allows online stores to offer their best deals. So, from Amazon Prime Day to Black Friday Cyber Monday (BFCM), the holiday season starts with deals, deals, and more deals.
You don't want to miss out on what is the best opportunity to snap up great products for a fraction of their prices. To avoid missing out, you need to track product prices on specific eCommerce sites.
However, manually checking eCommerce websites for changes in product prices will be tiring and time-consuming.
With Distill, you don't have to check web pages for deals manually. Distill automates page monitoring eCommerce sites for deals (like price changes, discount offers, free shipping offers, etc.) and instantly alerts you of finds.
How does the Distill web monitor work? How do you use it to monitor web pages for the best deals and track other product parameters to optimize your holiday shopping experience? This guide will answer these questions. At the end of this guide, you'll know what to do to not miss out on the best deals for 2022, including the best Amazon October Prime Day deals to the best Black Friday Cyber Monday deals.
Price fluctuation on holiday deals
If there's a "best time" to buy big ticket items it is the holiday shopping season when merchants offer highly promoted goods at heavily discounted prices. For example, Amazon Prime Day Early Access Sales, Black Friday sales, and Cyber Monday sales, usually feature rock-bottom prices.
Because the prices of items fluctuate, product price monitoring saves you from regretting buying something now only to see it later listed for lower than you bought it.
In the past, the only way shoppers could monitor product prices was by regularly checking the eCommerce site for price changes. However, this manual price monitoring is tiring, time-consuming, and less effective.
Thanks to modern website change monitoring technology, consumers can now use price tracker apps to automatically monitor eCommerce sites for price changes.
How to track black friday deals and monitor prices
One of the best price-tracking apps you'll find is Distill.io. You can use it to automate the monitoring of different product parameters, including prices.
Distill.io automates and simplifies web page monitoring in three simple steps:
You select the part of the website you want to track.

It checks the page for any change in the parameter you've selected

It instantly notifies you when it detects changes
Distill has powerful capabilities that take price monitoring to new levels. Using Distill's "conditions," you can set up monitors to get notified and buy items when their prices drop according to defined specifications. Some price conditions that you can set for notifications are when the price:
Drops by a particular amount.

Drops to a specific amount.

Falls within a particular range.
After setting up, you can go about your everyday business. Distill will do the monitoring in the background for price changes and will alert you once your set condition is met. This way you will get automated alerts and know when to take action to score the best deals on blackfriday.
In this blog post, we will help you set up price tracking on iRobot Roomba i6+ on Amazon.com. Last year, this product was so much in demand that it completely stocked out on Black Friday 2021 sale. Let's get started.
How to set up Distill to monitor product prices in eCommerce sites
Step one: Monitor parts of the product page
Navigate to the amazon product details page and click on the Distill Chrome extension icon. It will be a blue drop-shaped icon. Choose "Monitor parts of page". You will enter a screen that opens up a visual sector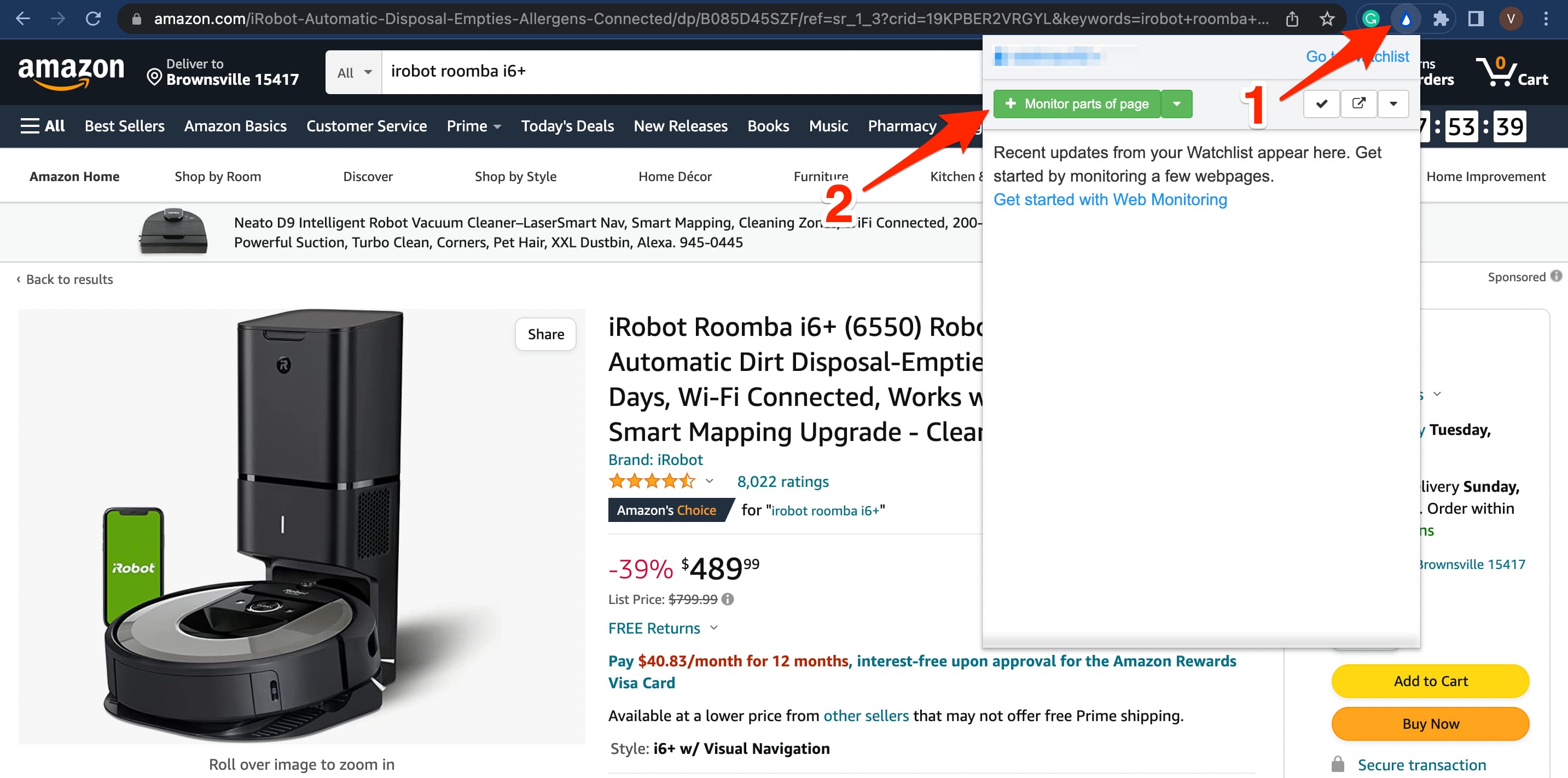 Step two: Select the parameters you want to monitor
Now that the visual selector has opened up, you can make selections on the webpage. This is as simple as clicking your mouse on the parameters you want to track. In our case, we want to track the price of Roomba. For price monitoring, the part of the web page you should monitor is where the product's price is displayed.
A selection box appears around a selected page element. A count also appears on the page selector icon, which increases by one every time you select another element of the page.
After selecting the price, click the "save" icon to save your selection.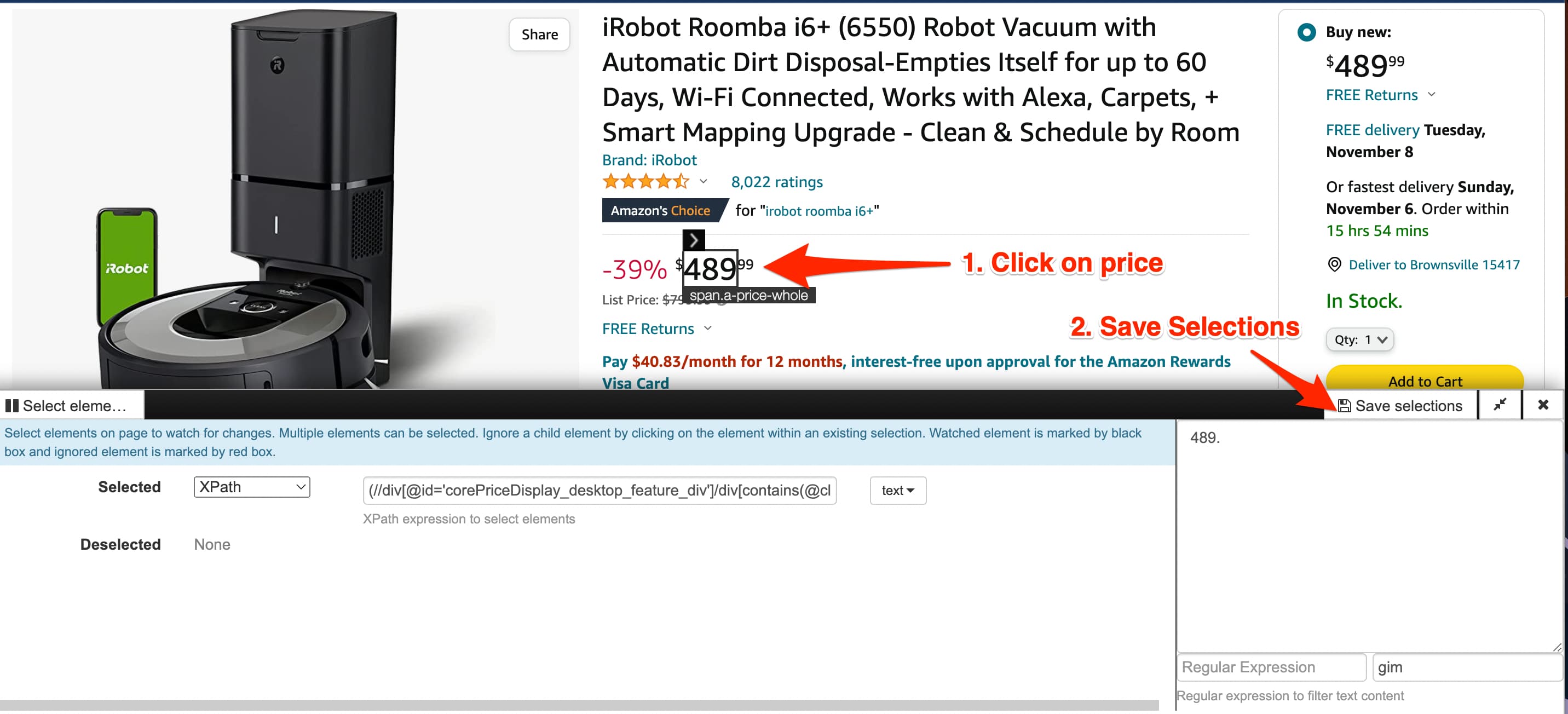 Step three: Set the monitor frequency, conditions, and how you want to be alerted
Once your selection is saved, you'll be directed to the page where you can set up your monitor**.** Here you need to set how frequently you want the Distill web monitor to check the web page for price changes. Configure how you wish to receive the alert and set conditions that should be met for you to be alerted.
Let's do it step by step. Follow the instructions below:
To set "check frequency," click and draw the slider. For Local Monitors, you can set as little as 5 seconds as the check interval. But for Cloud Monitors, the minimum check interval depends on your subscription package. The minimum check interval is 2 minutes for the Flexi plan, 5 minutes for the Professional plan, 10 minutes for the Starter plan, and 6 hours for the Free plan.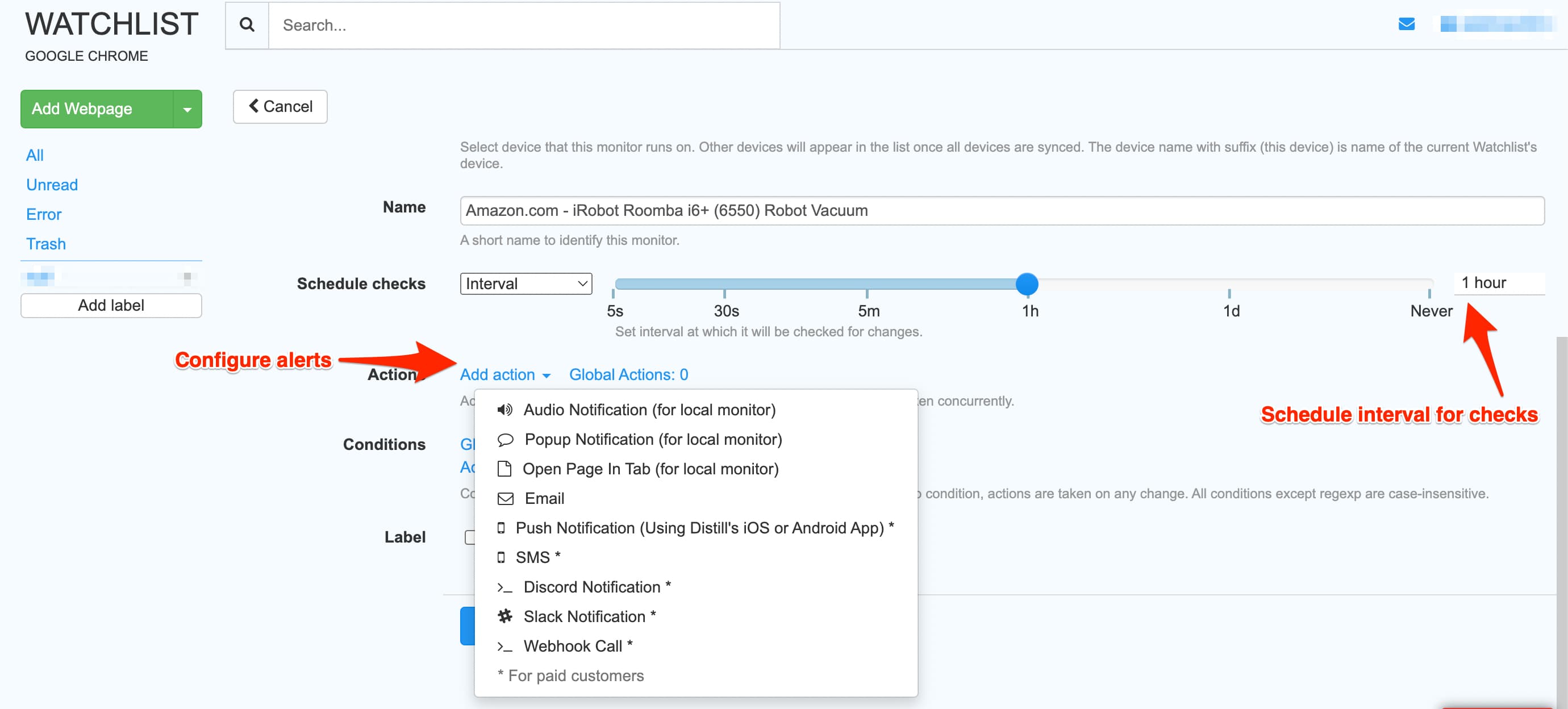 To set "alert type," click the "Add Action" drop-down menu. Then select an option and enter your details. Distill.io can send you price change notifications via email, SMS, push notifications, etc.
To set "conditions," click the "Add condition" button and set your desired condition. For example, if you want to be notified if the product price drops below $450, you'll set the condition "if text has number less than 450."

After making your settings, click on the "save" icon. Distill creates the price monitor and adds it to your watchlist.
You can follow these steps to track price evolutions on your bucket list products for Black Friday and Cyber Monday deals on different eCommerce stores.
How does the Black Friday price tracker work?
When Distill detects that the price has changed, you get an alert (via email, SMS, mobile app - or whichever mode you have chosen)

The alert includes a comparison of the webpage with the old content and the new content highlighted as changes.

The alerts are triggered based on the conditions you have set up in Step 3.

Once you get an alert of a price drop, you can immediately purchase the product as you have timely notifications from Distill.
Closing thoughts on the upcoming deals during the 2022 holiday season
Happy deal hunting!