How To Monitor Your Company's Online Reputation
Tarun Jain
4 out 5 consumers say online reviews influence their perceptions about companies and 80% report that negative online comments changed their purchasing decision.
With consumer reviews holding such importance in purchasing decisions, negative reviews can hurt your business badly. Every negative review that gets unnoticed, will give hit your business and a loss of a customer.
By tracking what consumers are saying online, you can leave timely feedback on comments. It can help understand the problems faced by consumers and improve your reputation.
Therefore, you need to monitor what your customers are saying. Here's how you can set up automated alerts using Distill to monitor your online reputation, irrespective of your niche .
Follow along the steps mentioned below to start monitoring consumer complaints websites:
Step 1:
Download Distill Chrome extension in your browser from here. Once downloaded, you will see Distill logo (a blue color drop icon) in your Chrome toolbar.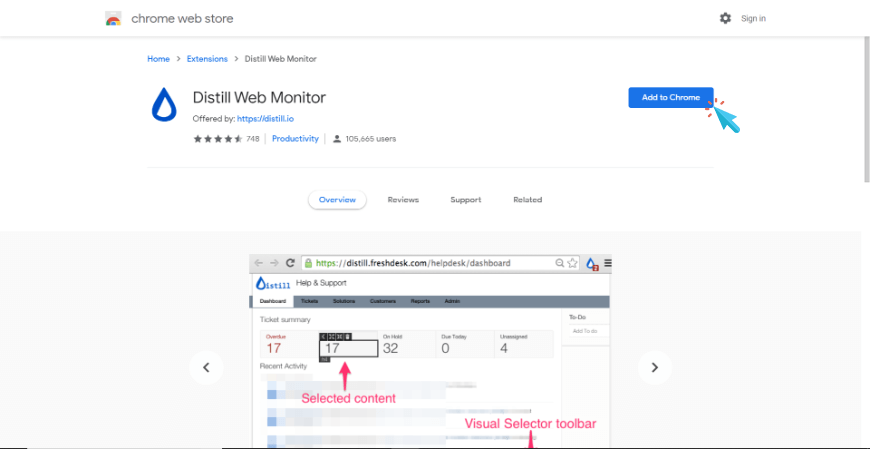 Step 2:
Go to the web page where you want to monitor customer reviews, for example- Trustpilot website. The brand monitored here is only for example purpose.
Step 3:
Click on Distill extension and select 'Select Parts of the Page'
Step 4:
Click anywhere near the customer reviews section. A black selection box will appear showing the element you have selected to track. Click on 'Save selection'.
Step 5:
Now, you will be redirected to your Distill watch-list dashboard. You can adjust the interval for monitoring. You can also provide conditions for alerts, if required.
Step 6:
Set up your email account so you can receive an email whenever a review is posted about you. Click on 'Sign In' to add your email account. Once your email is connected, click on Save.
Step 7:
And you are done. Now if a customer reviews your product, you will get an email notification about it and you can reply to it without any delay.
As a company, your reputation can be a prime driver for people buying your customer or potential employees deciding to join your company. By monitoring the negative feedback, you can improve customer service and provide a better value to customers as compared to your competitors.
If you want to monitor multiple sites, Distill offers a paid version which allows running 40 monitors in cloud. You can view the pricing here. If you have advanced features requirements you can get in contact with our team at support@distill.io and we can assess a price for you based on the requirements.
If you have any query, feel free to tweet to us at @distill_io or email at support@distill.io