Track and Buy Concert and Event Tickets Online Before they Sell Out
Ishani Saha
Concerts and events are something people love to attend, but they can also be very expensive. This is especially true when there is high demand and tickets sell out quickly. If you want to get the best seats possible at a concert or event, then you need to know how to track online ticket websites like Ticketmaster, SeatGeek and StubHub, etc. By continuously monitoring these websites, you can be the first to know when tickets become available and buy them before they sell out.
Beat the scalpers and never pay a markup when demand is high for an event
When the demand for an event is high, it's a good idea to buy tickets from reputed online ticketing websites instead of the resale market. No one wants to pay a high markup price or end up with fake tickets after spending a pretty penny for them.
For example, when Taylor Swift announced her "1989 World Tour" presale tickets sold out in minutes on Ticketmaster. People who tried to buy them online and on resale markets were disappointed because they were priced higher than face value by scalpers.
The same thing happened with Beyoncé's Coachella performance back in 2018. The tickets sold out in under 3 hours. There was news of a ticket site crashing due to unprecedented demand and was unavailable for several hours before being fixed again later that day (and again after another round of issues).
1. Find the tickets at the lowest prices before they sell out
There are two ways to find the best tickets at the lowest prices:
Use a tool that will let you know when tickets become available. Some ticket websites like Ticketmaster and StubHub offer to notify users when tickets become available, so they can buy them before they start selling out. But these "alert me" emails and notifications are subject to the email queues on the sender's side and generally end up in your spam folders. Ultimately, you are greeted by a "sold out" message when you return to check. Not the best choice according to us.

Use a browser extension that is easy to use but also helps you buy the tickets before they sell out. If you're looking for an easy way to get alerts on concert and event tickets, Distill.io is our top recommendation for monitoring ticket prices, new event announcements, and tracking the availability of tickets for your favorite artist's events before they sell out.
2. Get Instant notifications when tickets become available
You can use Distill to get notifications when tickets become available. Distill will also let you know if there are any deals going on that day, so you'll always be prepared with the best prices possible! It works seamlessly on popular sites like StubHub, TicketMaster, and Eventbrite, as well as SeatGeek
3. Don't miss out on your favorite events!
Monitor ticketing sites for your favorite artists, standup acts, and more to get alerted when they announce new shows.

No more frantically checking to see if your favorite band is in town or if the tickets are sold out. Any new concert announcements are automatically tracked, and notifications are promptly triggered by Distill.
4. Discovering new artists and events:
Discovering new concerts and events is easy with Distill.io.

You can track events of the genre of your taste and set up distill to notify you when new events are announced.

Find out about new events without consciously looking for them. You will get alerts when something cool is happening in your town!
Using Distill's ticket tracking to find yourself a ticket on time.
Distill Web Monitor is available on Google Chrome, Firefox, Edge, and Opera, and it will notify you when there are any changes in the availability of tickets. In addition, it can also track other changes, such as price updates or venue changes. This makes it easy for you to stay up-to-date with the latest information.
This video will guide you on how to use Distill to set up a monitor for tracking ticket prices and its availability
How to monitor the availability of tickets?
Distill is a ticket tracker that can monitor websites that sell tickets, such as TicketWeb, ticketmaster.com, eventbrite.com, stubhub.com, tickets-center.com, and vividseats.com. It helps you keep track of new ticket deals and upcoming events near your city.
Whether you're looking for tickets to a music concert, comedy show, club event, or theater performance, Distill will help you find tickets online before they sell out. It removes the need to constantly check tickets' availability by seamlessly automating the checking process on multiple websites.
This article will show how Distill can be used for monitoring ticket prices and availability.
Installing Distill Web Monitor
You can easily install Distill by following these steps:
Note: You can also install Distill on Firefox, Edge, or Opera.
Click the "Add to Chrome" button, and a pop-up will appear. Then, click the "Add extension" button. Chrome will automatically download this extension for you.

To pin the Distill extension, click on the Extensions icon located top right of your browser and click the Pin icon next to Distill.
Using Distill to monitor the availability of tickets on TicketWeb
Here are the steps for setting up a monitor for tracking ticket availability on a website:
Navigate to the event page you are interested in tracking and click on the Distill icon located at the top right of your browser

Click on "Monitor parts of page"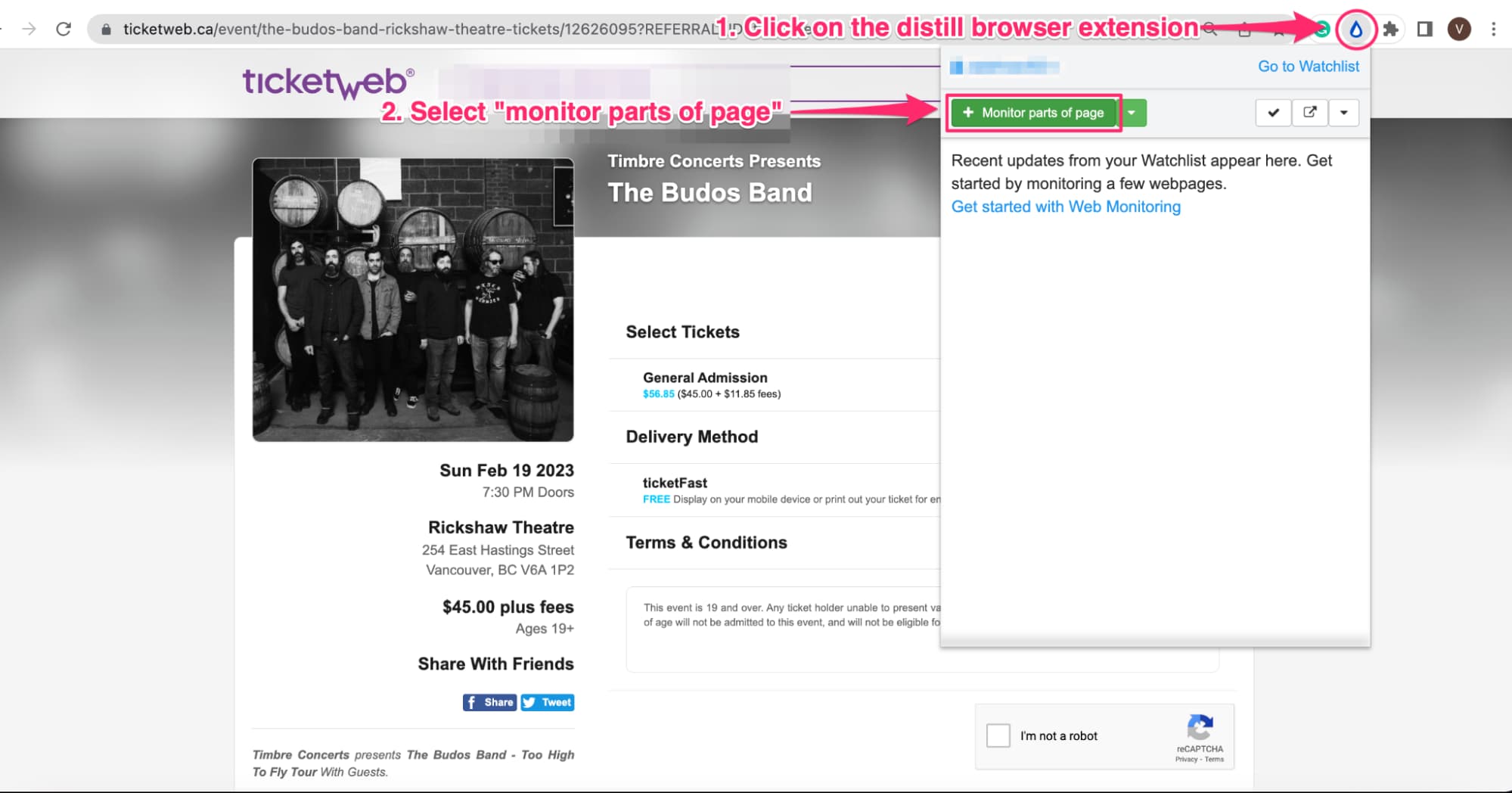 Click on the parts of the page you want to monitor. Eg: I want to track the date and the venue for any changes. Then click on "Save selection"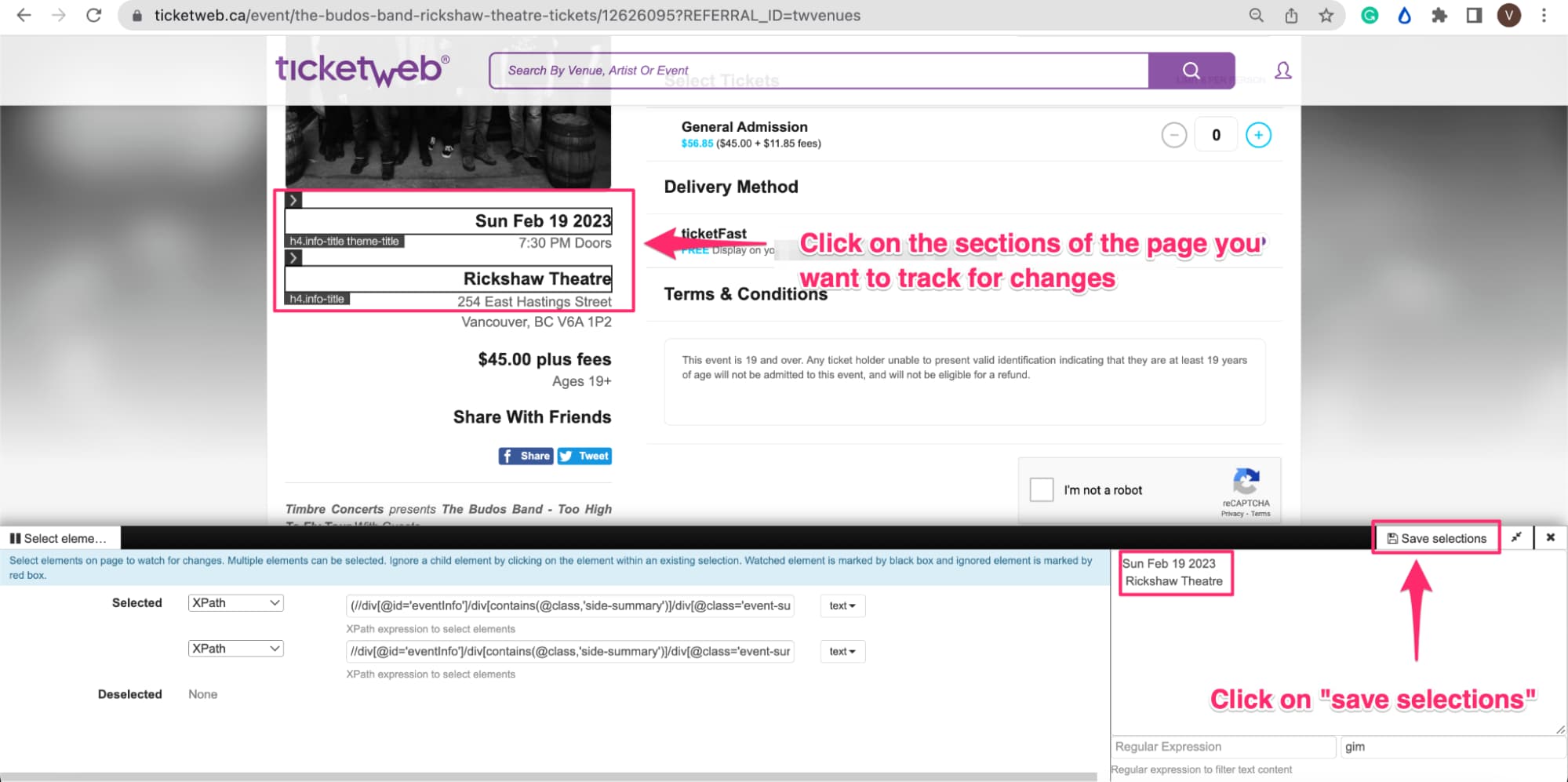 You will be redirected to the "Options" page, where you can specify the monitoring options for your ticket.

In the "Device" section, select local device to run the monitors on. Now Distill will run checks on the ticketing site as long as your browser is open. We suggest using local monitors over the cloud servers for faster checks.

In the "Schedule checks" section, you can choose how frequently Distill monitors the page for ticket details. Select "Interval" and set it to 1 hour ( or any interval based on your needs). Distill will check the ticket webpage every hour to see if there are any updates and will notify you accordingly.

In the "Action" section, select how you want to be notified. If you have a free account, select "email". An email will be sent to you whenever there is an update. Paid users have more notification to choose from.

Leave the "Conditions" section as it is so that you will be notified by email whenever there is a change in price or availability of tickets.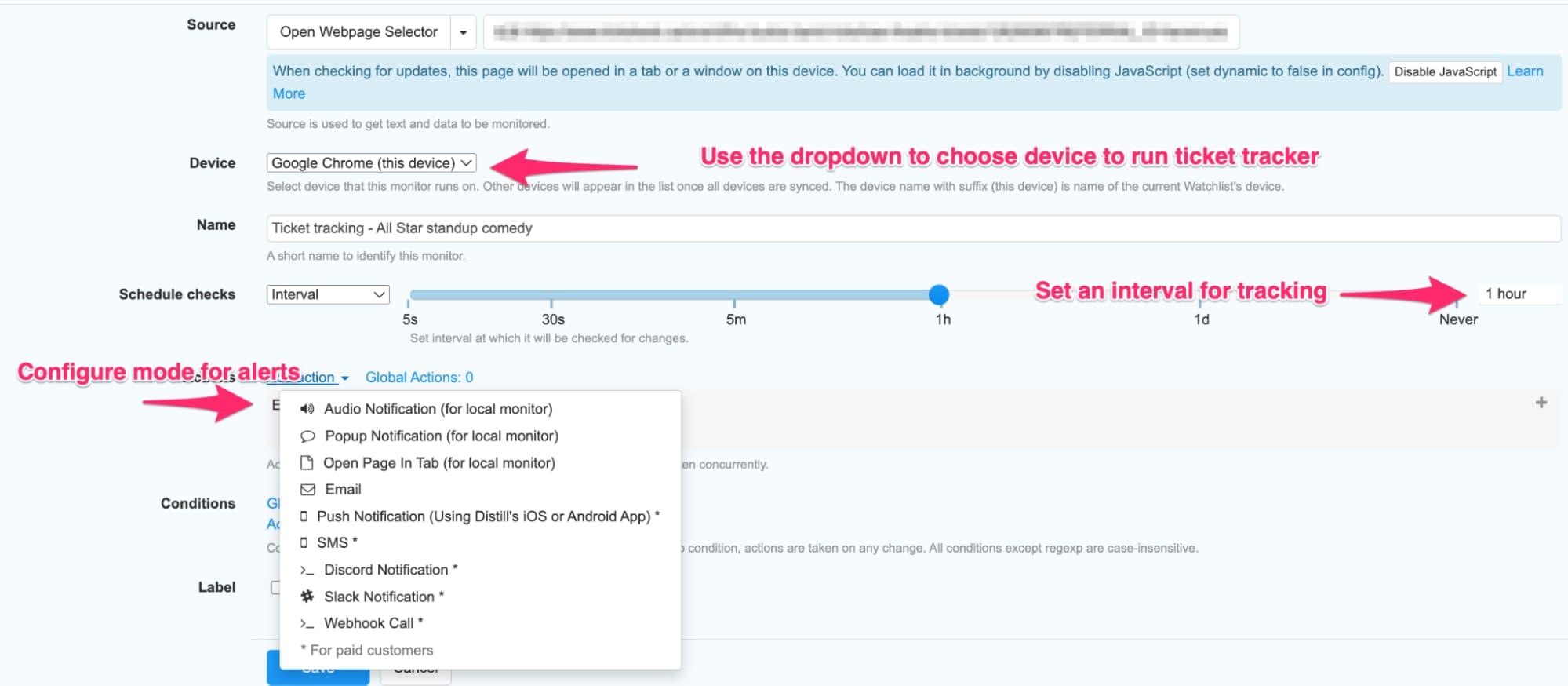 Finally, click the "Save" button to save the monitor. Make sure to turn on the monitor to begin monitoring the ticket details.
How Distill ticket tracker works to notify you of ticket un/availability
After setting up the monitor, Distill will continuously track the event/ticket page and alert you of any changes. It can be changes to the show's timings or when the event tickets sell out. For example, if the ticket provider updates the webpage to say "tickets are unavailable", Distill will immediately notify you. This allows you to quickly look for tickets on another site or ticket provider.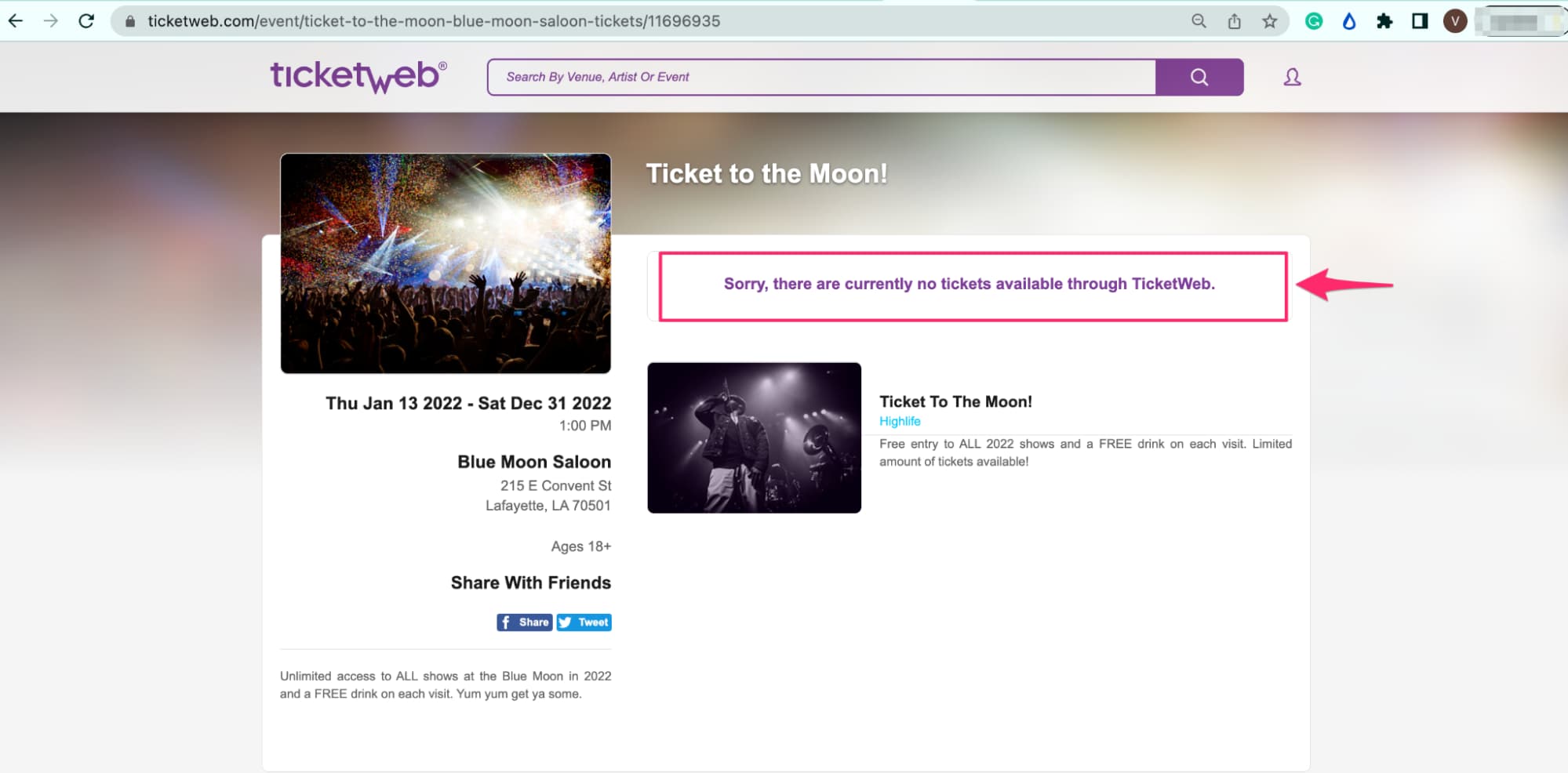 Setting up alerts to get notified of ticket price changes
To do this, you can monitor the Price element on the page with Distill.
You can also specify Distill to notify you only when the price goes below a certain amount. This way, Distill alerts you when the ticket price falls within your budget, and you can buy it immediately.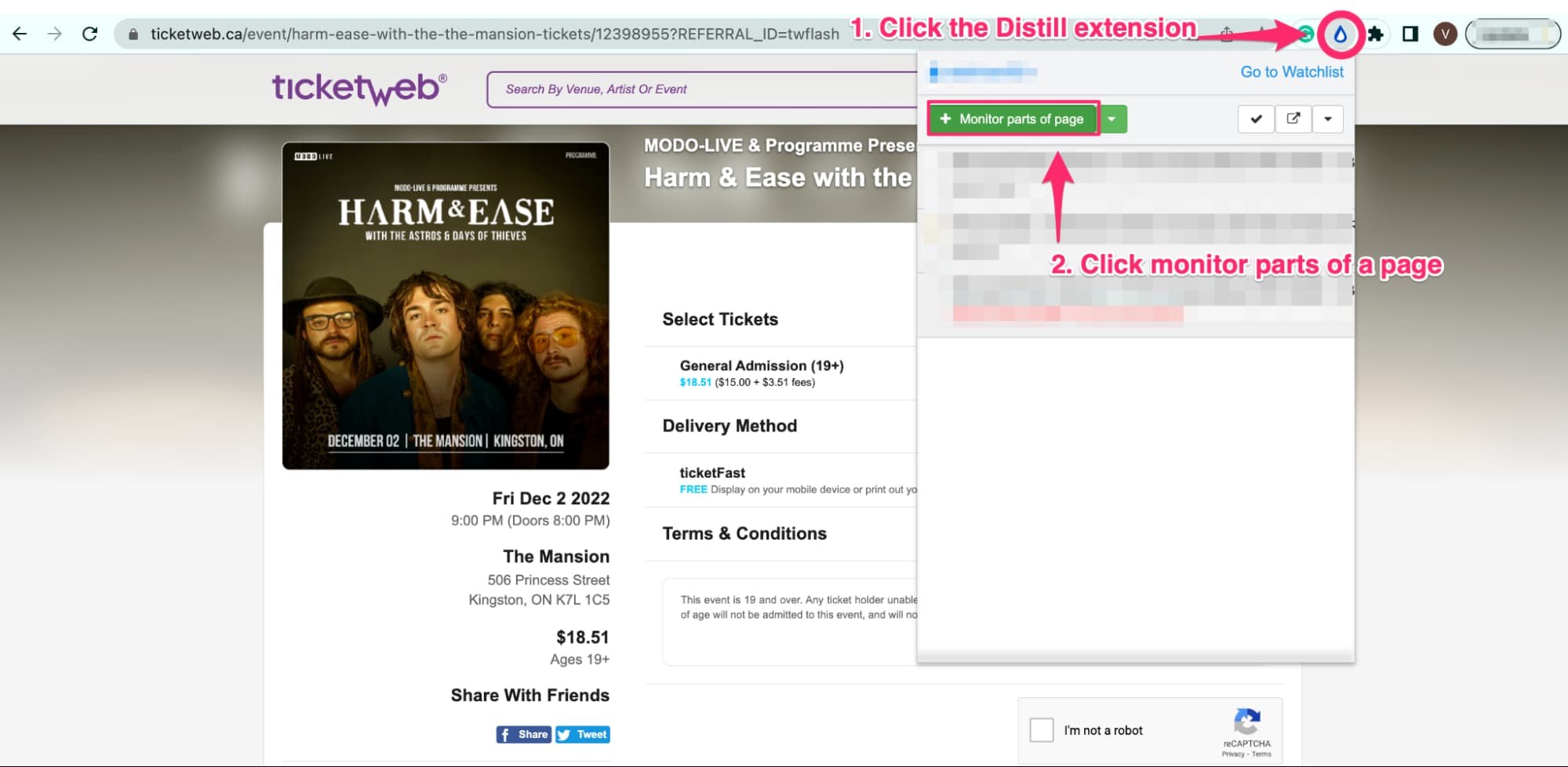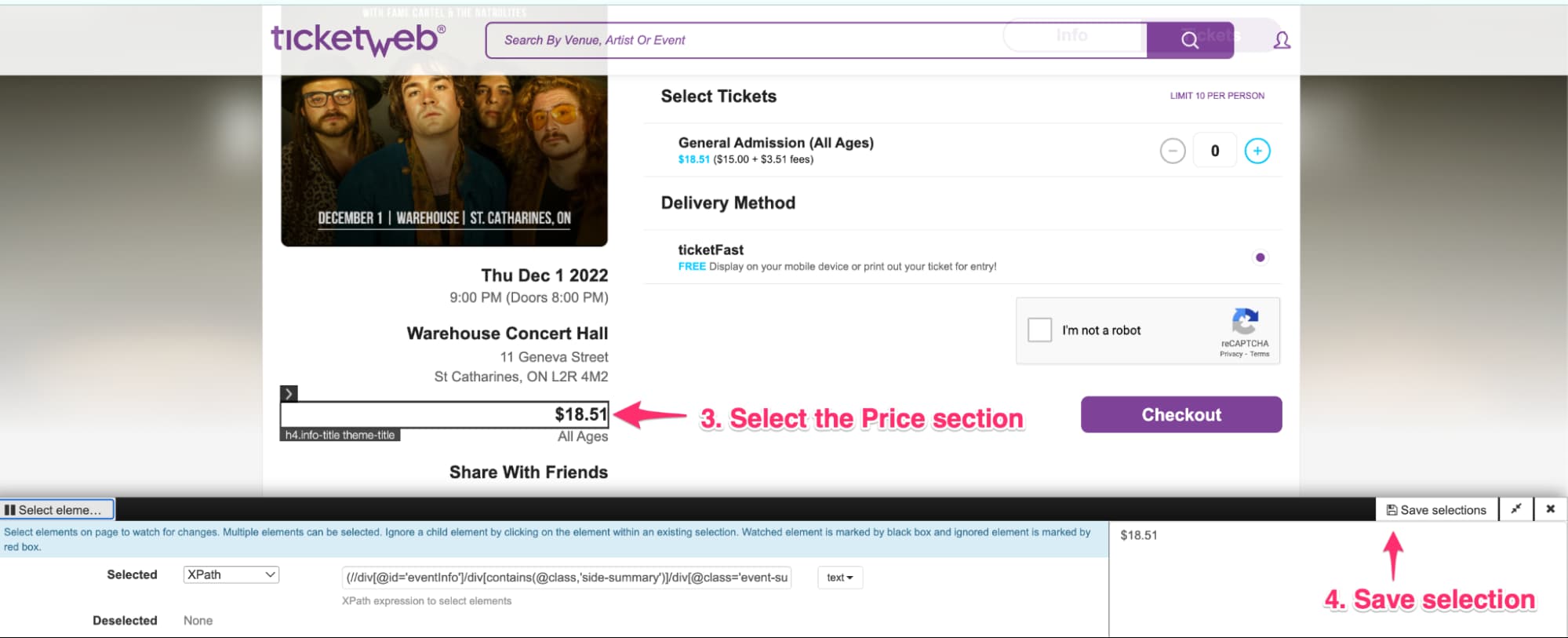 5. Compare ticket prices listed on different websites.
Another way you can use Distill is to compare tickets listed on different websites. You might want to do this to compare the availability of tickets listed on different sites or simply to get a better deal.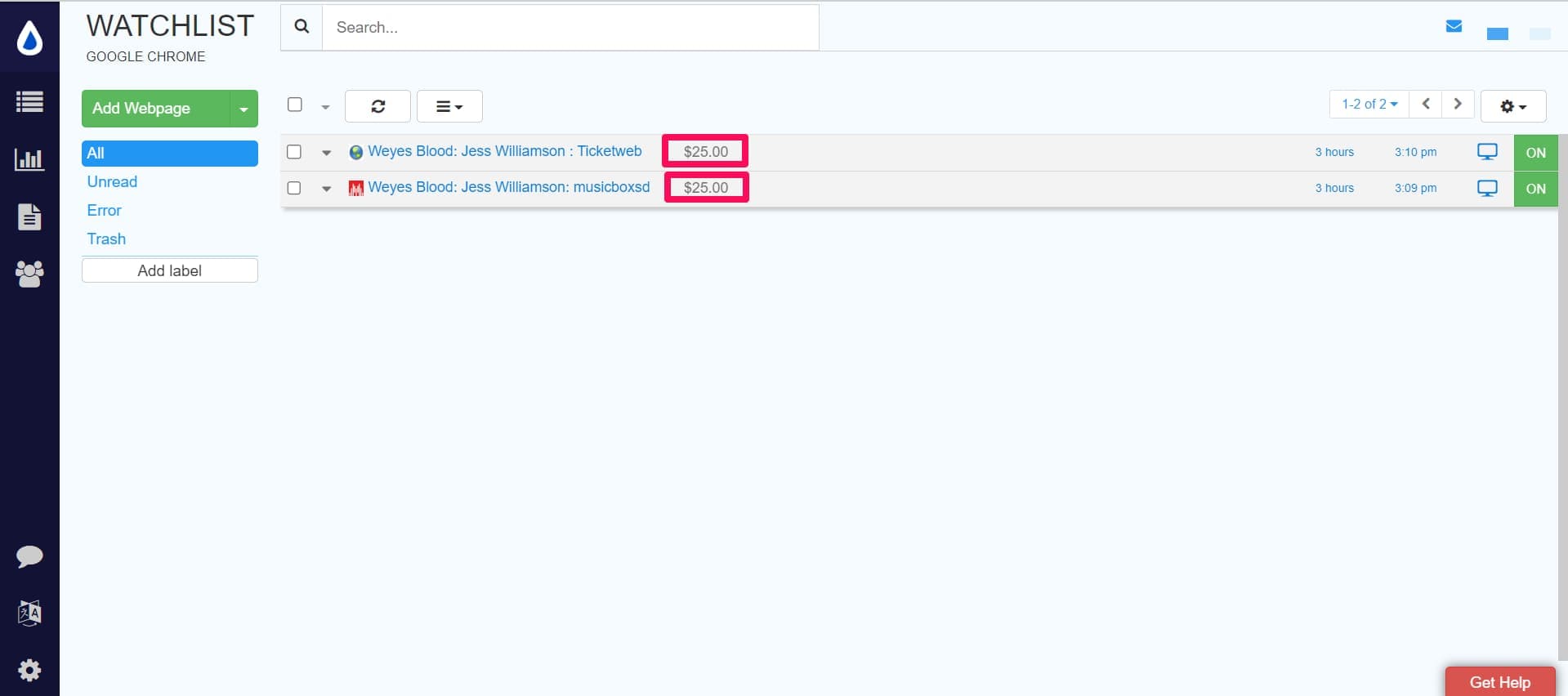 Why should you upgrade your Distill account?
Free users have limited features and restrictions that make tracking multiple events and tickets difficult. For example, a free account has a limited number of monitors and can only check webpages for a mere 1,000 times per month.

On a free plan you are limited to 30 emails/ month. We recommend upgrading your account to get access to more notifications. This will allow you to keep better track of any changes on ticket websites and get alerts via Push Notifications, SMS and more which are not available on the free plan.

Our paid customers get access to alerts via android app and iOS apps. This is handy to get alerts while you are on the go making ticket purchases instantly.

Based on your tracking frequency you can choose between the starter and professional plans.For more information on the different subscription plan features, please visit our pricing page.
Note: We recommend using local monitor checks over Distill cloud checks for faster frequency of ticket price & availability tracking.
Conclusion
Concert and event tickets are a hot commodity, so it's important to keep an eye on event websites. If you want to find a good deal on tickets, here are some tips: Do your research, check back frequently with the help of a ticket tracker like Distill, lastly, sign up for alerts and be notified as and when new tickets become available.
With Distill you stay up-to-date and ensure you get the best ticket prices possible before the event sells out.
To get started with ticket tracking you can download the free Distill Browser Extension today. Incase you have any queries on the set up steps please feel free to reach out to our community forum for help.