Track Camera Deals and Price Changes with Distill
Vaishnavi Srinath and Ishani Saha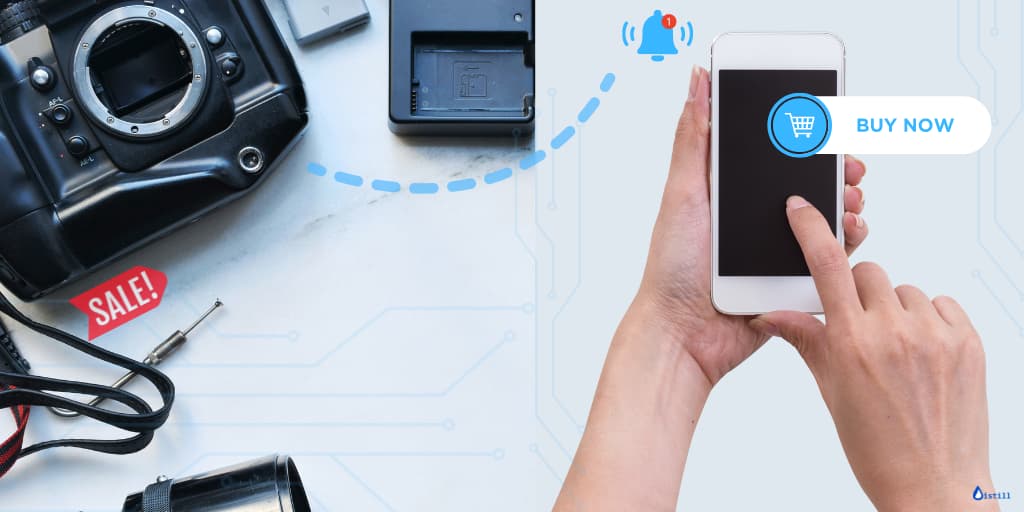 Looking for a new camera but don't want to spend hours searching for deals online? Frequent price changes and uncertainty in product availability, make tracking your dream camera a tedious task. One popular solution is to monitor the websites like B&H Photo Video and Adorama, which are known for offering competitive prices and a wide selection of cameras and related equipment.
Web monitoring tools can be incredibly useful in tracking these websites. You can easily set up monitoring for specific cameras or equipment and receive alerts when prices drop, or when items come back in stock. This way you grab the best deals and avoid out of stock scenarios.
In this blog we'll help you track camera prices online, find discounts and set up alerts for when your favorite cameras are back in stock and available for purchase.
Decoding camera price fluctuations: Understanding the factors at play
In the year 2022, we saw a rise in the prices of digital cameras (Price-hike:Canon-Nikon-and-Leica) because of the following reasons:
With each new feature addition or improvement, digital camera prices tend to go up.

High-end cameras are often made with high-quality materials such as metal, glass, and carbon fiber, which add to the costs.

In recent years, the global supply chain has been impacted by factors like chip shortages, rising energy prices and trade tensions between countries, leading to disruptions in production resulting in camera price increases.

Exchange rate fluctuations between the US dollar and other currencies also have an effect on the price of cameras imported from other countries.
When is the best time to buy a camera?
Sales seasons and holidays are great times to save big on big-ticket items like cameras. Read on to learn about different purchasing options when planning to buy a camera:
End-of-season sales: Many retailers offer end-of-season sales, such as end-of-summer or end-of-holiday sales, where they provide discounts on cameras and other electronics. Primeday is a great time to purchase a camera.
Holiday sales: Retailers often offer holiday discounts on electronics, including cameras, during events like Black Friday, Cyber Monday, and Christmas. These deals can include price reductions on new and older models, bank promotions, and bundle packages.
New model releases: Camera manufacturers often release new models in the spring and fall. Therefore, if you're looking for the latest and greatest camera, it's best to wait until the new models are released on the official site and listed retailers.
Save big with refurbished cameras: Refurbished cameras are pre-owned cameras that have been inspected, repaired, and tested by the manufacturer or retailer and are sold at a discounted price.
It's also important to keep in mind that while price is important, the best camera for you is the one that fits your needs and budget. It's always a good idea to research and compare different cameras, read reviews, and consider the features and product specifications that are most important to you before making a purchase.
How to find the best camera deals & track specials on B&H
Tracking cameras on the B&H website need not be a time consuming manual process. A website monitoring tool like Distill can automate the process by:
Tracking specific product pages on the B&H website
Alerting you as soon as deal or special becomes available
Closely monitoring price changes and tracking if products you want are back in stock
The following sections will guide you through the process of setting up Distill monitors, which can automate the process of website tracking.
Steps to track cameras on B&H website
Installing Distill web monitor
Step 1: Install Distill on a browser of you choice: Chrome Firefox, Microsoft Edge and Opera
Optional: To pin the Distill extension, click the extensions icon located at the top right of your browser and click the pin icon next to Distill.
Monitor camera price on the B&H website
Step 2: Navigate to the B&H website and search for the camera of your choice. For this example we will be tracking the Sony Camera a7R V Mirrorless Model
Step 3: Click the Distill icon on the top right corner of the webpage that you are interested in tracking and click "Monitor parts of page"

Step 4: Click parts of the page that you would like to track. For example, in this case we will select the price of the product.

Step 5: Click "Save Selections"
Step 6: You will now be directed to the "Options" page where you can modify the following options for tracking the website:
Under the "Device" option select the device you want the monitor to run on. You can either choose 'Cloud' or your 'browser' to run checks. Note that the browser checks happen as long as your browser is open. However, in case of Distill cloud servers, the webpage will be checked 24x7 irrespective of whether the browser is open or not.

Using the "Schedule checks" option you can select the interval at which Distill will check the webpage for an update. In this case we will set Distill to check for updates every 1 hour.
Note: The minimum checking time is 6 hours if you are monitoring from Distill's servers on the free plan. For more frequent checks, we recommend using local checks over cloud checks. For more frequent checks, you may want to upgrade your plan.
Under the "Action" section, select how you want to be notified. If you have a free account, select "email". An email will be sent to you whenever there is an update. Paid users have access more number of notifications and added advantage of SMS and mobile app push notifications.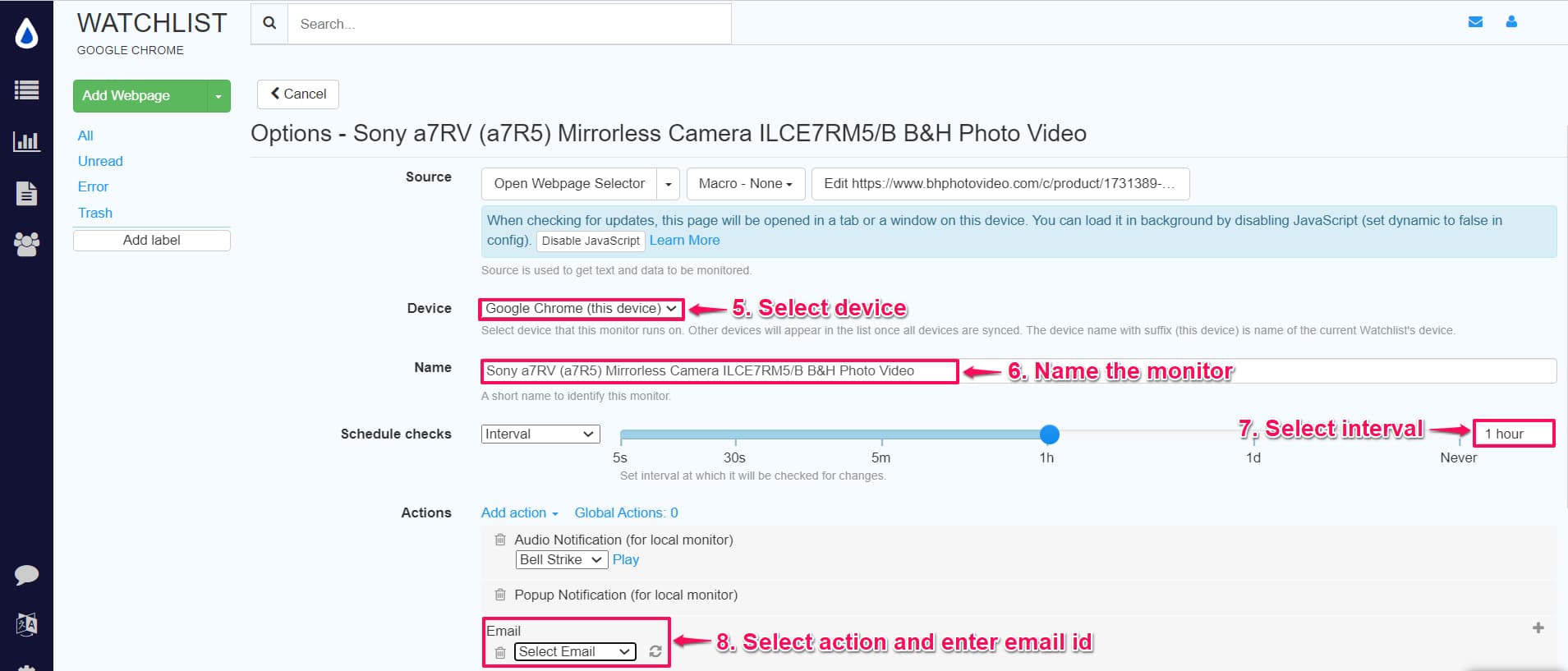 Step 7: Click the "Save" button to save this monitor.
Customize price alerts based on your budget
Distill allows you to specify multiple conditions for various web tracking operations. For example, you want a notification when a particular camera or lens:
Has a price drop of more than $350 (Or)
Has a price point less than $3600
Distill fires a notification when all the conditions specified are true. But it is also possible to notify if any of the conditions have become true.
To add the conditions in the options page, click "Add conditions" and select the match type as "All" or "Any".
By default the match type is set to "All", which means that to get a notification, the webpage must have satisfied all the conditions.

Selecting the "Any" option will ensure that we receive a notification in case any of the conditions mentioned in the options page is fulfilled.
The image below shows how to configure the new condition. Using the example of the Sony Camera a7R V Mirrorless Model shown above, the condition here is set such that we will be notified if the price of the camera drops by more than $350 or  if the price drops below $3600.

Once the conditions have been added, click "Save" to save the changes of the web monitor.
Track camera availability on B&H website
Once you have installed Distill's Google chrome extension, you will be easily able to track the availability of stocked out cameras. In this case we will be using the example of Canon EOS R6 Mark II Mirrorless Camera which is stocked out and is one of the best selling cameras at the time this article is written.
Step 1: Navigate to the product webpage.
Step 2: Click the Distill icon on the top right corner of the webpage that you are interested in tracking and click "Monitor parts of page"
Step 3 : Use the mouse to click "Temporarily out of stock" or "Back-ordered" section (As applicable to the product)
Note: "Back-ordered" status indicates that product order cannot be filled at the current time due to a lack of available supply.

Step 4: Click "Save Selections"
Once saved, Distill starts to monitor selected section of the page. When the text "In stock" replaces the "Back - Ordered" or "temporarily out of stock", Distill fires a notification to you indicating that the product is available for purchase.
Another way to set up the same monitor to track the availability of the camera is by monitoring the whole page for any indicative term that suggests that the product is back in stock. For example here we will set up conditions on Distill to alert us whenever the term "In Stock" appears on the page.
Step 1: Click the Distill icon and select the "Monitor full page" option.

Step 2: In the options page, click "add condition" and set up the condition as "Added text", "has" and type "In Stock".

Step 3: Click "Save".
Steps to track camera deals on the Adorama website
Get alerts about product availability in deal of the day section
Adorama has a dedicated 'Deal of the day' page, which is a great place to score products and save big. Let us suppose you want to buy a Canon EOS R7 and Canon EF 8-15mm f/4L Fisheye USM Lens as soon as it is available on the deal of the day page. Here's how you can create an alert to watch for it.
Step 1: Open the Adorama deal of the day page here.
Step 2: Click the Distill icon in your browser. Click "Monitor parts of page".
Step 3: Multiple deal tiles are shown on the website. Hover the mouse slightly above any of the tiles and click.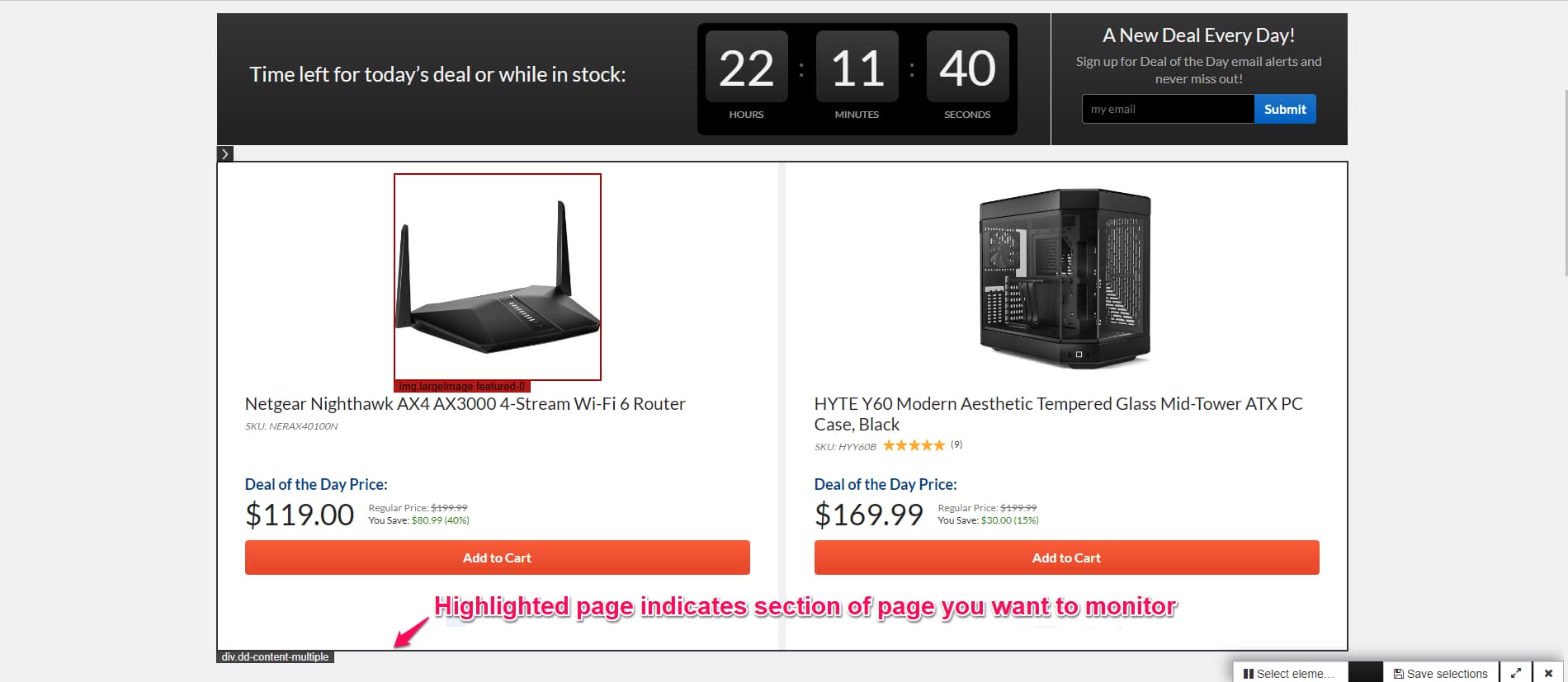 Step 4: Click "Save Selection".
Step 5: Choose a device to run your deal monitor. We suggest using your local browser for checks if you are on a free plan. For running your monitor on the cloud 24/7 and at a more frequent interval explore our subscription plans.
Step 6: Click "Add Condition" in the conditions section as shown below. Key in the camera name that you want to purchase. In this example you can read it simply as "Added Text has Canon EOS R7". Using the "Add" option we can also add multiple conditions options and get notified if either of the products are available on deal.

Step 7: Click the "save" button.
Conclusion
Whether you are looking for the best camera deals on the latest gear or simply a hobbyist seeking an affordable camera, tracking camera prices online can help you make informed buying decisions and get the best value for your money.
Tracking camera prices is easier than ever with Distill. It automates tracking website product pages for changes. This way you can frequently track price drops, get instant availability or back in stock alerts and find the best deals and discounts on e-commerce platforms. Distill also supports push notifications on iOS and Android apps.
Download Distill on a browser of you choice: Chrome Firefox, Microsoft Edge and Opera to get started right away.