Distill.io Chrome Extension - Monitor Website Changes
Distill is the most advanced page monitoring tool for professionals. The browser extension is the easiest and fastest way to monitor pages or feeds. It can monitor dynamic pages and iframes too. To know more features visit distill.io/features.
Get started by downloading the extension - Chrome | Firefox | Opera
Once installed, you are ready to monitor any page for changes.
Steps to Monitor Website Changes using Distill
Following are the steps to add your first page monitor using Distill:
Step 1: Open the web page you want to monitor.
Step 2: Click on Distill icon from the Chrome toolbar icon. It will open a small window with a menu. If you cannot find the Distill icon, please check chrome://extensions/ and click on "Show button" for Distill extension.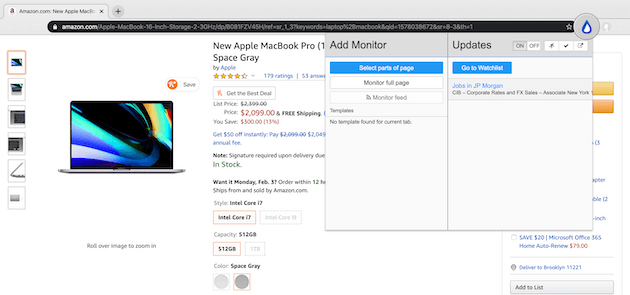 Step 3: Click on "Monitor full page" option to monitor the whole webpage or click on "Select parts of page" to monitor only a selected part or section of the webpage, For example - only price of an item.
Step 4: Now you will be redirected to your Watchlist. Here you can set custom settings of your monitor.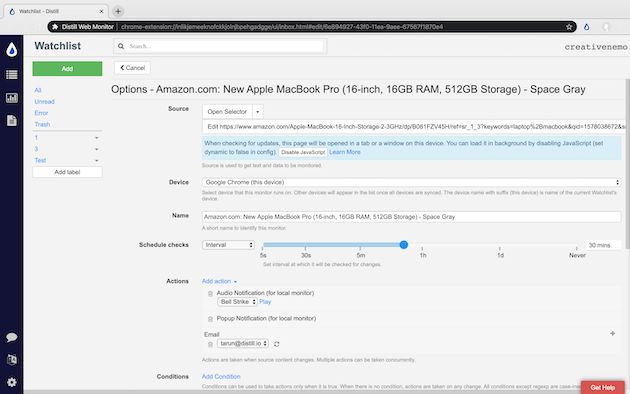 Step 5: If you want to receive email notification when anything changes on the website, click on 'Sign in' under Email settings and connect your email account.
Step 6: Once done, click on 'Save'. Congratulations, your first monitor has been added to Distill.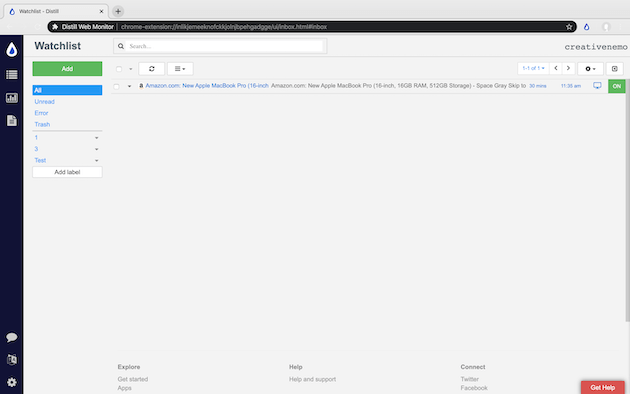 Alternatively, if you have clicked "Select parts of page", you can select elements from the web page. Hover around the web page to see a black box moving. Click around your desired section in the web page. Your selected element will be displayed at the bottom right of the page. Click on "Save selections" from the Visual Selector toolbar to save the selection.
Your monitors will appear in your Distill's "Watchlist". Click on "Go to Watchlist" from the Distill icon in your browser's toolbar to view Watchlist. You can configure the settings for any monitor and visually see changes from the Watchlist.
To learn more about how to use Distill for various use cases, check our following quick start articles :
FAQs
1. Is the free plan available for a limited time period?
The Free Plan is available for an unlimited period of time and can be used for testing the capabilities of Distill.io. The interval frequency is limited to 6 hours therefore if you require regular checks for more web pages, we advise you to upgrade to a higher plan. You can view the pricing here.
2. I am looking for a custom solution. Is this available?
In case you want a custom plan for your needs, you can contact us at support@distill.io.
3. How can I delete a monitor?
To delete a monitor, select the monitor and click on trash button. Your monitor will be moved to trash.
3. How can I edit my account settings ?
To edit your account settings, click on Settings → Profile in your watchlist.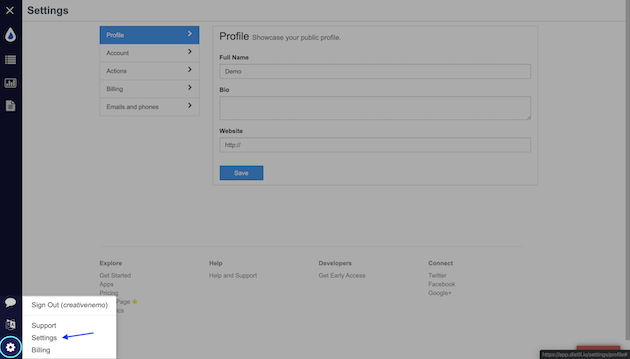 You can find more FAQs here.
Contact us
Email us your query, pain points and suggestions at support@distill.io. We would love to hear and answer them.
Happy Distilling!